Love Indian barfi sweet? Want to make the best crowd-pleasing burfi? You are at the right place. This post is about the collection of popular, best, and easy barfi recipes.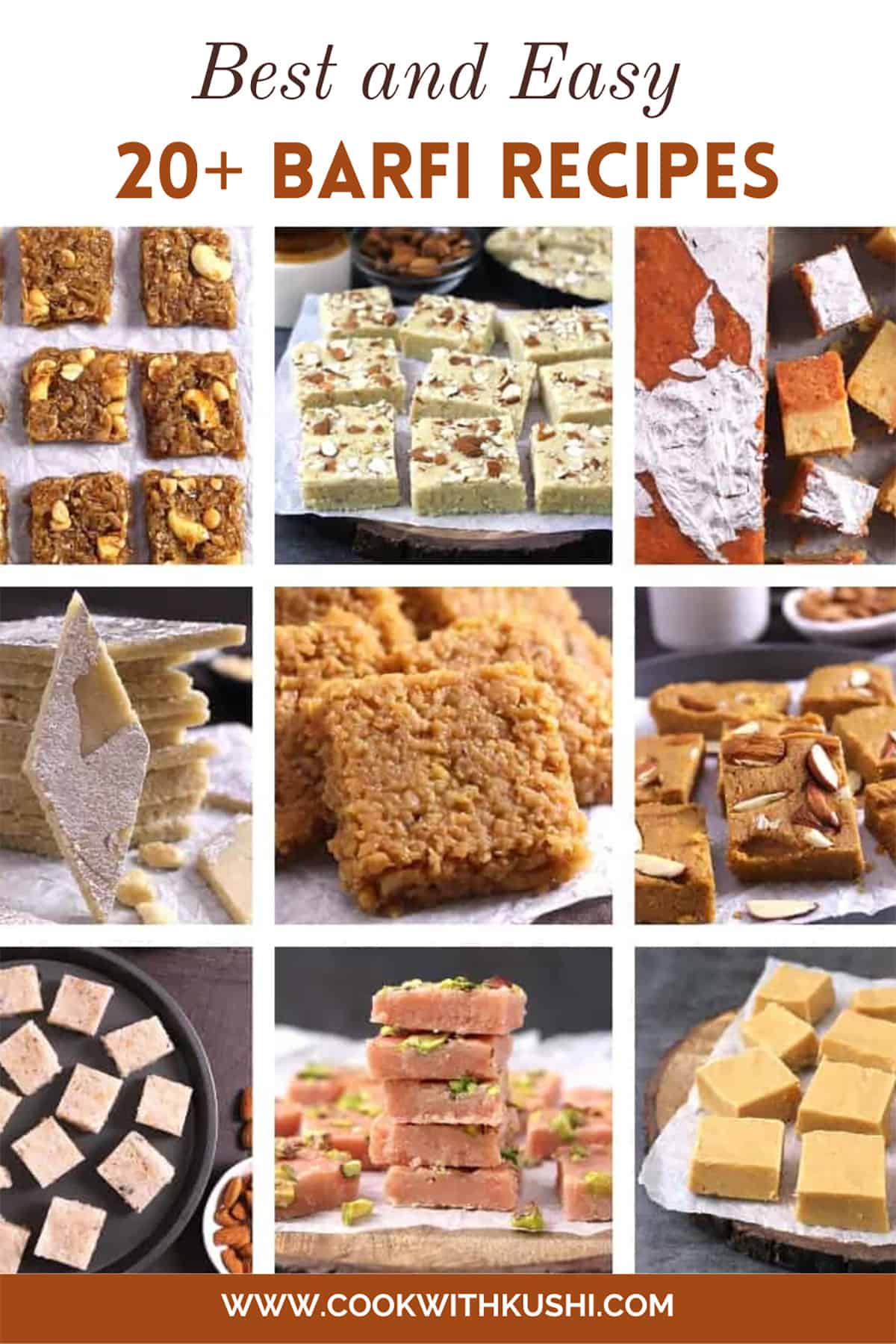 Jump to:
What is Barfi?
Barfi, also called Burfi, barfee, borfi is a milk-based Indian fudge made of full-fat milk, sugar, and ghee. When the mixture thickens to fudge-like consistency, it is enhanced by adding dry fruits and nuts, spices like cardamom, kesar (saffron), or rose water. This is spread onto a greased plate.
To make it pretty and festive, they are further garnished with nuts or coated with an edible silver leaf called vark. On cooling, you can cut them into squares, rectangles, rounds, diamonds, ovals, etc. Use a knife or cookie cutter to get desired shapes.
The traditional method for making burfi requires condensing milk for hours. As an alternative to this milk powder, condensed milk, khowa (mawa), coconut, or almond flour is used.
Burfi or Barfi is the most popular Indian sweets recipe for festivals like Holi, Raksha Bandhan (Rakhi), Diwali, Navratri, Karwa Chauth, Christmas, Eid, or special occasions like weddings, birthdays, and anniversaries.
Don't forget to check out some of the best Indian sweets and desserts.
Types of Barfi
Easy milk barfi with milk powder or condensed milk, popularly known as plain burfi, is made for most festivals as it requires just five ingredients and less than 30 minutes of your time. You can make variations to barfi, and each region has its unique take. Some popularly made barfi flavors are
Kaju barfi, kaju katli (cashew burfi)
Badam burfi, badam katli (almond burfi)
Besan burfi (chickpea burfi)
Coconut barfi (with jaggery or sugar)
Sing burfi (peanut barfi)
Pista Burfi
Kesar Burfi (saffron barfi)
Chocolate burfi (Indian-style chocolate brownies)
Gajar barfi (carrot burfi)
Rose barfi (gulab burfi)
Mawa barfi
This is not the end. Flavors are just unlimited. You can make these even with seasonal fruits, for example, mango burfi.
Best Barfi | Burfi Recipes
Milk Burfi or Plain Barfi mithai is the most popular user-tried and tested recipe from my blog. This burfi takes just 30 minutes and five ingredients. This recipe has garnered over a million views, so check it out and try for your special occasion or festive season.
Kaju Katli is a popular halwai style katlis made using only three ingredients. This is one of the best options for your mithai box or gift box during the holidays.
Not a cashew fan? You can substitute cashew with almonds or pistachios.
7 cup Burfi is a South Indian style sweet made of chickpea flour or besan, milk, sugar, coconut, and ghee. This is also called doodh ki mithai.
Simple and best made with just two ingredients. Coconut and jaggery. No sugar, condensed milk, or fancy ingredients are used. This is also called kobbari mithai or soyi kadi.
Coconut or Nariyal Burfi is made using the traditional method where fresh coconut and sugar are used. This is popularly made during festivals like Ganesh Chaturthi, Diwali and Navratri.
A little different from the traditional way, this Besan Burfi is made using besan or chickpea flour and milk powder as key ingredients.
2 in 1 burfi, also called gulkand khoya (mawa) burfi, is an interesting variation to your traditional recipe.
A very special grandmother's recipe. This poha burfi is chewy and crunchy and prepared using poha (beaten rice), peanuts, and cashews. The texture is between barfi and chikki (brittle).
If you are bored of trying gajar ka halwa, then you should make this carrot burfi for a change. One of the best recipes to try with freshly grated carrots.
Rose Burfi is the first variation that I tried after my milk barfi post went viral. If you love the flavor of rose, you will love this mithai.
If you want to make a special recipe for holi or ugadi festival then you should try this Thandai Burfi made using fresh homemade thandai masala powder.
Love fruit-based burfis? Then try this mango coconut barfi when mangoes are in season. You can also make laddus with the same recipe.
If you are looking for a rich mawa-based dessert, then you should try this sweet. This is also popular during festivals like Janmashtami along with Mathura peda.
Love dry fruits? Then check out this festive Badam Pista Barfi. This is not smooth but rather crunchy.
If you are looking for a round or disc-shaped sweet called peda then make this doodh peda. Also don't miss to check out 6 interesting flavors here.
American No-Bake Fudge
If you are looking for an American or Western-style simple and easy no-bake fudge then we have peanut butter fudge, white chocolate fudge, oreo fudge, fantasy fudge, and Christmas chocolate fudge. Choose your favorite.
Leftover Barfi or Fusion Desserts
If you have leftover burfis or want to build on recipe to make a fusion dessert then check out our cheesecake jars and ice cream recipe.
Storage Instructions
Barfi is one of the best make-ahead dessert recipes, also freezer friendly. Check out some tips:
Room Temperature: If you plan to eat the barfi within a day or two, store it at room temperature in an airtight container. Keep the container in a cool, dry place away from sunlight.
Refrigeration: If you want to store the barfi for longer than two days, refrigerate it. Store it in an airtight container in the fridge. It can stay fresh for 7 to 10 days.
Freezing: Burfi can also be frozen for more prolonged storage. Wrap the barfi tightly in plastic wrap. Place the wrapped barfi in a freezer bag and freeze. It can be stored for up to 2-3 months.
Bring barfi to room temperature before consuming it to enhance its best texture and flavor.
Recipe FAQs
More Indian Sweets and Desserts
Did you like this recipe? Please leave a star ⭐️⭐️⭐️⭐️⭐️ rating below and/or a review in the comments section. You can also stay in touch with us through social media by following us on Pinterest, Facebook, Instagram, and Twitter.
Recipe card