Quick, refreshing, and light desserts are the best for summer. The local farmer's market is filled with beautiful and colorful seasonal fruits like strawberries, blueberries, blackberries, peaches, cherries, grapes, nectarines, plums, cantaloupes, and watermelon. The best way to consume these summer fruits is to make easy and refreshing summer desserts to satisfy your sweet tooth cravings.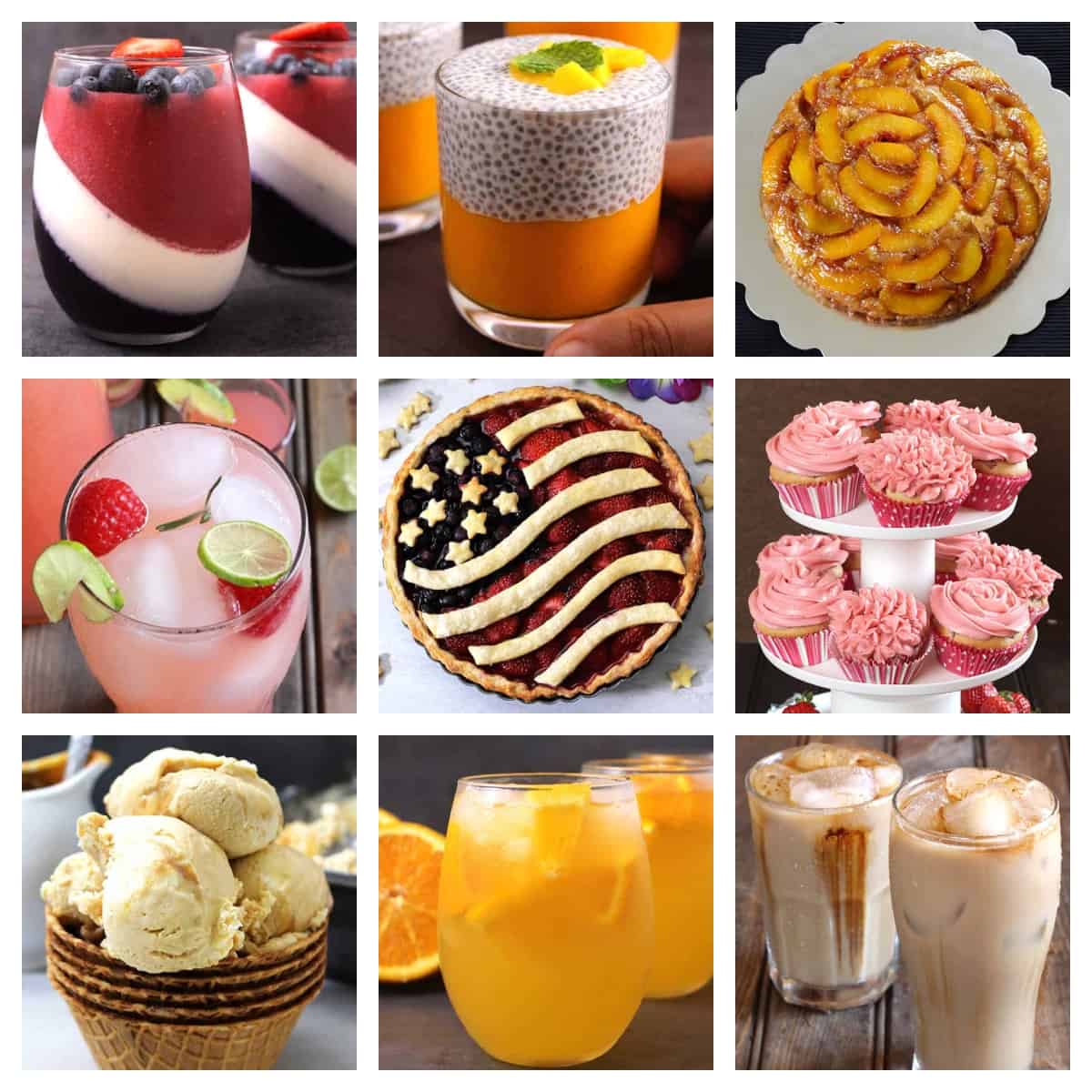 Jump to:
This post is all about popular and best summer desserts that include summer fruit pies, patriotic desserts, cool and refreshing ice creams, popsicles, gelato, sorbet, milkshakes and drinks, no-bake desserts, make-ahead desserts, and also some baked recipes like galette, cakes, cupcakes, and muffins.
The good part about these desserts is that they are quick and easy to make, and they taste refreshing and delicious with the seasonal fruits.
If you are looking for summer dinner recipe ideas, then check out some of the best salad, salsa, entrees, and grilling recipes here.
Patriotic Desserts
These beautiful red, white, and blue desserts are the best patriotic desserts you can make on the 4th of July or national holidays and show love for your country.
Some of my favorite patriotic desserts include American flag pie, red white blue panna cotta, fruit and cream, jello for 4th of July party, and flag poke cake.
Fruit Desserts
Fruit desserts are the best way to enjoy seasonal fruits' natural sweetness and flavors.
You can make fruit salad, strawberry cinnamon crisp, tart, crumble, parfait, or check out easy strawberry turnovers with puff pastry sheets, peaches, and cream, shortcake with seasonal berries, oatmeal bars with berries of your choice, fruit galette with ice cream, sticky rice with mangoes and more.
Cake and Chocolate Recipes
You can never ignore chocolate desserts; try combining them with seasonal fruits and vegetables in summer. You will love our zucchini chocolate bread, white chocolate mango mousse, and raspberry with chocolate chip cookies.
Also, try some of the best fruit-based cakes, bread, and cupcakes that include strawberry cupcakes with fresh strawberries, peach upside-down cake, mini pavlova, which can also be served as individual desserts, and fruit bread with mixed seasonal fruits.
Healthy and Light Dessert Recipes
These recipes are light, healthy, and unique, which will cool your body plus a total crowd-pleaser.
We have mango chia pudding, the most popular one, no-cook banana pudding, and finger millet custard best summer dessert to cool your body.
Cool Frozen Summer Desserts
Homemade ice creams are always the best. Maybe no churn, gelato, sorbet, or fruit popsicles. We always have a tub of ice cream with seasonal fruits.
Try our strawberry fruit popsicles, dulce de leche ice cream, homemade mango ice cream, fresh fruit mango popsicles and roasted almond ice cream recipe.
Summer Drinks
Drinks are always the light, refreshing, cool, and delicious way to enjoy a hot summer day. Don't miss trying these summer drinks.
We have iced coffee, iced tea, seasonal fruit smoothies, coconut water, tomato juice, homemade grape juice, blueberry mojito, raspberry lemonade, milkshake with dulce de leche, state fair, and carnival-style orange shake-up.
Make Ahead
You can make ahead some of the best and most delicious summer desserts. Some of my family's favorites include frozen treats like dulce de leche ice cream, 3-ingredient mango ice cream, no-bake panna cotta, overnight chia seed pudding, fruit-based bread, zucchini cake, and more.
I have given make-ahead and store instructions for desserts in each of their recipe posts.
No Bake Summer Desserts
If you don't want to turn on your oven on hot summer days, just like us, then do try these quick and easy no-bake summer desserts that are perfect on a hot sunny day.
These no-bake treats are made using seasonal fruits like berries (strawberries, blueberry, blackberry, watermelon, peaches, and more).
Some of our favorites include patriotic berry panna cotta, strawberries and cream or quick peaches and cream, seasonal fruits, and chia pudding.
Recipe FAQS
Recipe card