Tandoori Style Grilled Chicken is a delicious appetizer or starter packed with full of flavor and spice that you should not miss to try out if you are a meat lover.


Memorial day long weekend got over so soon this year and I have already started looking forward for the fourth of July weekend! My husband is back to work and I am following normal routine - taking care of son and household work. What did you guys do over long weekend?
This year, we stayed at home and relaxed, as it is not possible for us to travel now with the little one. The best part though was the fun we had grilling delicious food in our backyard 🙂 We prepared tandoori style chicken, potatoes, and sweet potatoes. We also grilled some ripe plantains for dessert. Yes, if you have not tried grilling plantains you should give it a shot at your next barbecue. The grilled plantains were chewy, sweet and tasty that even my little one loved it.


Coming back to the grilled chicken, it is a wonderful treat that every meat lover will enjoy.  My husband generally prepares all barbecue recipes and the first question I asked him after my very first bite was "When are we going to have this again?". Truly a delicious way to eat chicken.
The only trick here to get it right and flavorsome is to marinate it for at least for few hours, or preferably overnight. The longer you marinate the better. I loved it as it is. You can also serve it on bed of basmati rice or some mint chutney. In the recipe below, I have used lemon juice, garlic powder, which can be substituted with yogurt and fresh grated garlic cloves. You can also grate in some ginger if desired. I have added chaat masala which gives amazing tanginess to the chicken. If it is difficult to find tandoori masala powder then substitute it with garam masala powder. Vary the amount of spices as per your taste.
And if you are  a vegetarian you can still try out this recipe by substituting meat with cauliflower, paneer / tofu, babycorn, mushroom, potato, sweet potato, etc.


While you are here also check out other chicken recipes like :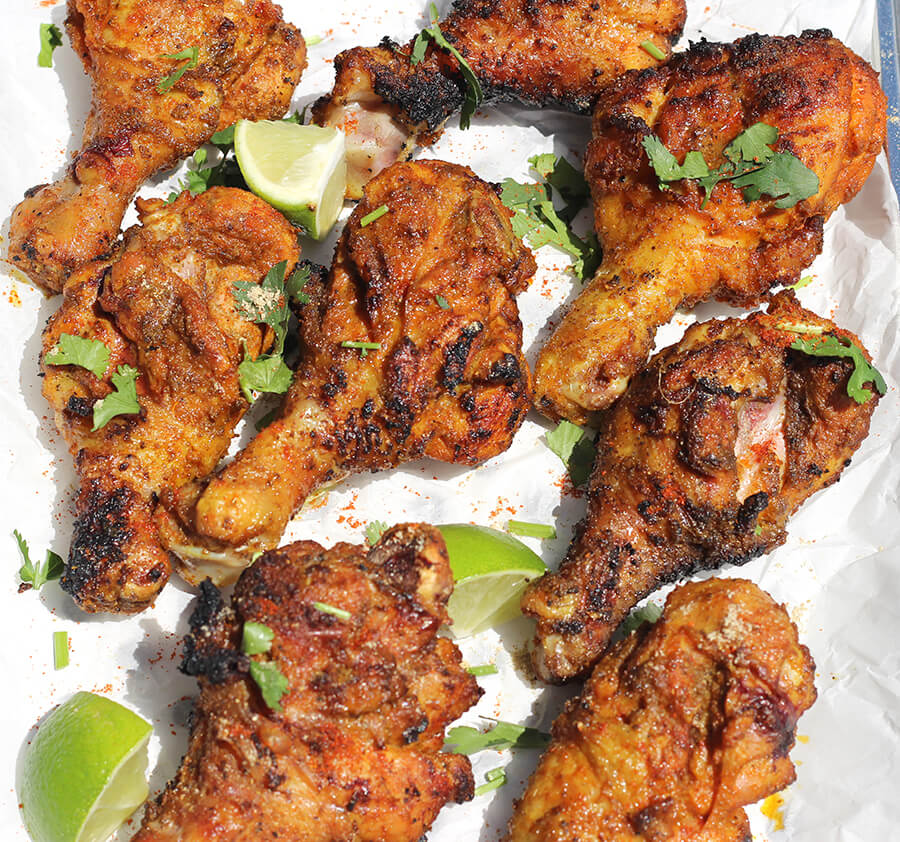 Preparation time : 15 minutes
Marination time : Overnight
Cook time : 25 minutes
Serves : 8 pieces
Follow me on Instagram and tag me with #cookwithkushi so that I get a chance to see all the recipes you make and give it a  ♥.
Ingredients for Tandoori Style Grilled Chicken
Chicken Drumsticks - 8
Lemon juice - ¼ cup
Red chile powder / Cayenne powder - 1 ½ tsp
Garlic powder - ½ tsp
Tandoori masala powder - 1 tsp
Chaat Masala - 1 tsp
Turmeric powder - ½ tsp
Salt - 1 ½ tsp
Vegetable oil / Canola oi - ⅛ cup
Steps to prepare Tandoori Style Grilled Chicken
Step I
Make some slashes (or cuts) using a sharp knife to the chicken pieces. This allows the marinade to get in faster and even speed up cooking time.
For marinade: In a bowl add lemon juice, chile powder, garlic powder, tandoori masala, chaat masala, turmeric powder, salt and mix. Add chicken pieces and make sure that each piece is well coated with the marinade.
Cover this and refrigerate for at least 4 hours, or preferably overnight.
Step II
Place marinade-coated chicken on the grill.
Grill chicken until it is golden brown and cooked through, about 12 to 13 minutes on each side or a total of 24-26 minutes. Apply oil for over the chicken around the 12-minute mark. If you have a meat thermometer, the internal temperature should read 165 F.
Tandoori Style Grilled Chicken is now ready. Serve with lime wedges and enjoy.
For more recent updates, follow me on Pinterest, Facebook, Instagram, Twitter, GooglePlus. 
***Click below to save it on Pinterest***