Honey Sriracha Tofu is a sweet and spicy, super delicious appetizer and a perfect family-friendly recipe to make for dinner or any type of gathering.


I love tofu in any form and experiment with it a lot. For me, tofu dish without the aroma of basil is just incomplete. This recipe below is not only easy to make but also healthy and tasty. The spiciness of sriracha and the sweetness of the honey combined with aroma of sauteed ginger, garlic, and basil leaves makes this dish just amazing 🙂 There is no bland tofu here!
Non vegetarians can also try out this recipe with chicken. Vegetarians can substitute tofu with paneer / cottage cheese, cauliflower, potato, baby corn.
You can also check out my other tofu recipes here :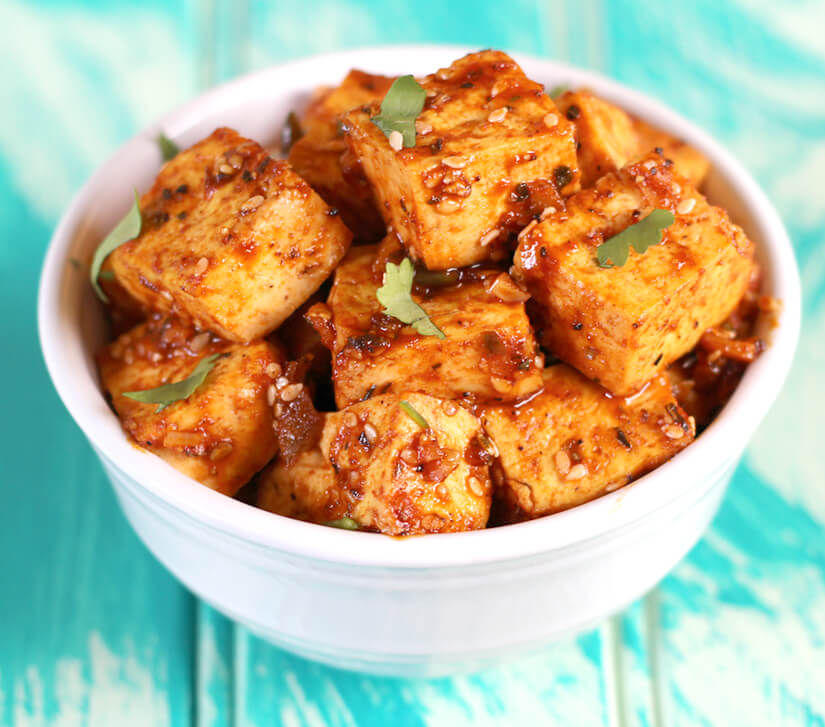 Preparation time : 20 minutes
Serves : 4
Ingredients for Honey Sriracha Tofu
Extra firm tofu / Paneer - 14 oz
Garlic cloves finely chopped - 3
Ginger finely chopped - 1 inch
Green chile finely chopped - 1
Soy sauce - 1 tbsp
Worcestershire sauce - 1 tsp
Sriracha chili sauce - 2 tbsp
Honey - 1 ½ tbsp
Apple cider vinegar - 1 tsp
Red chile powder / Cayenne powder - ¼ teaspoon (optional)
Black pepper powder - to taste
Dried basil leaves - ½ tsp
Salt / Garlic salt - to taste
Sesame seeds - 2 tsp
Vegetable oil - 1 tbsp
Steps to prepare Honey Sriracha Tofu
Cut the tofu into cubes or any desired shape.
Heat oil in a non-stick pan. Add ginger, garlic green chile and saute till it becomes light in color.
Now add the tofu and saute it for about 7 to 8 minutes till it becomes light golden brown on both the sides. You can sprinkle salt on top of tofu while sauteing it.
Meanwhile in a bowl prepare the sauce - add soya sauce, worcesterhire sauce, honey, sriracha chili sauce, pepper powder, chile powder and mix well.
Add this to the tofu and stir so that the tofu is well coated with the sauce. Cook this for about 2 minutes.
Add the basil leaves and sesame seeds and mix well.
Honey Sriracha Tofu is now ready. Serve hot and enjoy. You can garnish it with cilantro or spring onions.
Tip:
Vary the ingredients as per your taste.
Use any chillli sauce available. The taste may vary accordingly.
You can substitute green chilies with jalapeno or serrano pepper.
You can also substitute dried basil with fresh basil. This will enhance the taste.
For more recent updates, follow me on Pinterest, Facebook, Instagram, Twitter, GooglePlus. 
***Click below to save it on Pinterest***