No Bake Granola Bars are easy to make, healthy and delicious snack recipe prepared using natural sweeteners that can be taken for any social gathering or family outings. This recipe is customizable, vegan and gluten free 🙂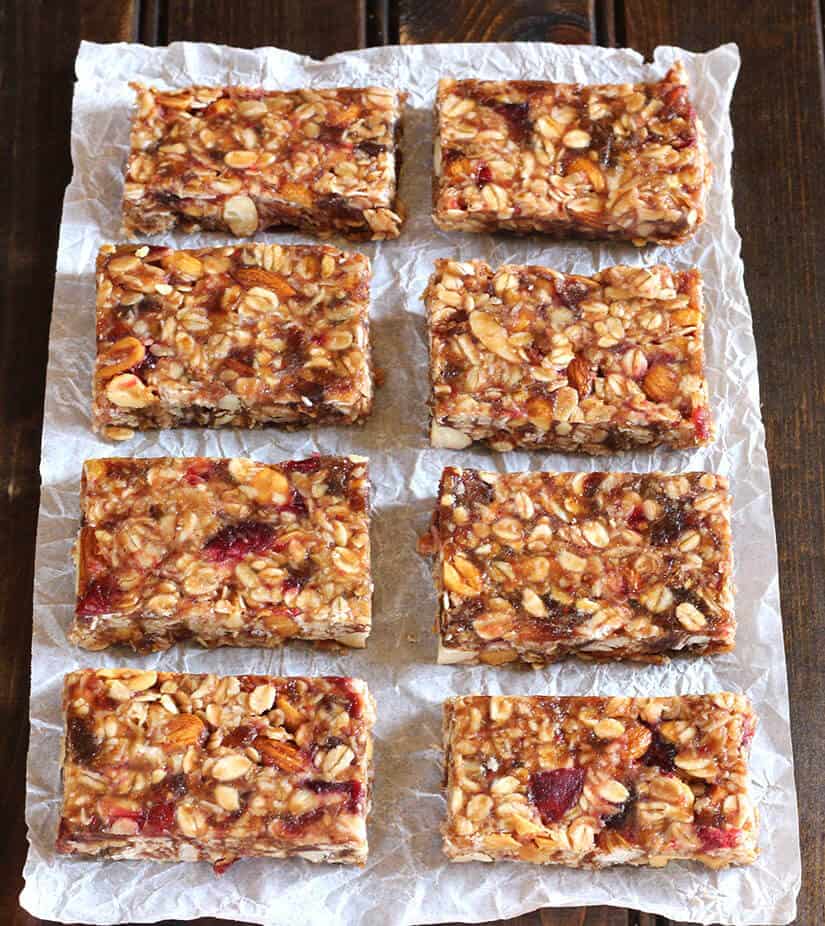 Today I have partnered with Hefty® Slider Bags to create this beautiful post. Do check out more details on how these bags are useful and comes handy and how I use them in my kitchen for storing and freezing right after the recipe below.
Holiday season is here and with lot of sports and other gatherings I hope you guys are looking out for snack recipes that are not only simple but also portable and stays fresh for longer time. Thanks to Hefty® Slider Bags, as they are perfect for the snacks-on-the-go like this. These bags are easily resealable and keeps everything fresh.
These no bake granola bars are prepared using dry fruits and nuts of my choice 🙂 You can use pistachios, almond butter, agave nectar, chocolate chips instead of the combination given below if desired. Also I have used fresh home made cranberry jam. You can add dried cranberries instead. I have used a 9 * 9 inch pan. You can use any pan of desired size and the thickness of the bars will vary accordingly.
If you love recipes that use oats, then do check out my recipes for best breakfast granola, crunchy granola using stovetop, healthy bread loaf using oats, oats roti, etc.
Preparation time : 20 minutes
Set time : 1 hour
Serves : 15 bars
Ingredients for No Bake Granola Bars
Dates pitted - 1 ½ cup
Rolled Oats - 2 cups
Almonds - ½ cup
Roasted peanuts - ½ cup
Peanut butter - ⅓ cup
Honey / Agave nectar - ⅓ cup
Cranberry jam / Dried cranberries - 3 tbsp
Salt - pinch
Hefty® Slider Bags - to store them and keep fresh
Steps to prepare No Bake Granola Bars
Step I
Blend the dates in a food processor or blender till its crushed into smaller chunks. Do not add any water.
Dry roast oats with a pinch of salt on medium flame for about 5 to 10 minutes till they become slightly golden in color.
Dry roast the almonds if you are using the raw ones. Else ignore this step.
Step II
Add peanut butter and honey in pan and warm it on low heat.
Once it is melted add roasted oats, almonds, peanuts, dates, cranberry jam and give it a thorough mix so that everything is well combined.
Transfer this to a 9 * 9 inch baking pan lined with parchment paper and spread out so that they are uniformly distributed and flattened.
I generally place another parchment paper or plastic wrap on top of it and use a glass to press it down.
Cover this with plastic wrap and let it firm up in fridge or freezer for 30 minutes.
Cut them into pieces of desired size. Store it in Hefty® Slider Bags and they will remain fresh for several days.
No Bake Granola Bars are ready. Serve as desired and enjoy.
I often encounter situations in my kitchen when I have left overs, specially after a lunch or dinner party. In my early days, I used to either discard extras and then feel guilty about it, or during other times store them in casseroles, pan, bowls and pots and then run out of space in my refrigerator. However as I gained experience as a homemaker, I started finding a balance between trashing excess food and safely storing them in freezers/refrigerators in an organized fashion. The main tool that came handy in this exercise were freezer bags. Today, I will share some tips on how I go about organizing my freezer and I also hope to hear from you about the techniques that you use.
While freezer containers can be useful at times, I do not use them as often because freezer bags are more space saving than their counter parts. Hefty® Slider Bags in particular does a wonderful job of keeping the moisture and flavors in and the typical freezer odors out. Whenever I have a large amount of food (e.g. tomato onion gravy) to be frozen, I prefer to store them away in smaller portions as they freeze quickly compared to freezing a large portion. Also, I have found that faster any food item freezes, the fresher it will taste when thawed.
Hefty® Slider Bags cost less than Ziploc® Slider Bags, when comparing the same type of bag (freezer/storage) and size (quart/gallon). I shop these at my local Walmart store as they really have a great collection of Hefty® Slider Bags in different sizes. Hefty® Slider Bags comes with extra strong seal, thanks to the amazing MaxLock® track design. Clicks Closed™ sound lets you know it's closed and Zipping sound indicates seal is secure
Earn cash back with a rebate with Ibotta when you buy multiple packages of Hefty® Slider Bags . Also check out Handy Hints on the best way to use them by visiting their website.
Some popular food items to store in Hefty® Slider Bags in refrigerator:

Ginger - Farmers market - to - home - to - refrigerator. That's a no brainier at my home. Ginger remains fresh for upto a month, and remains juicy and tender.
Green Chillies / Serrano pepper - Remove the stem, air dry for couple of hours and store it away for upto a month without any signs of decay.
Cheese - To retain their flavors, and prevent formation of molds all low-moisture cheese (e.g. Gouda, Provolone, Mozzarella, Cheddar, etc.) blocks, bars, and slices are stored in Hefty® Slider Bags.
Butter - Storing in freezer bags keeps them fresh and prevents them from becoming rancid.
Carrot - When stored carefully, they remain juicy and stay fresh for several weeks.
Cilantro / Coriander leaves - I get reasonably good quality cilantro throughout the year at my local Farmer's market. But I have noticed that they have relatively lower shelf life. They dry out and wilt very soon if they are out of refrigerator. They also tend to rot when they are in contact with excess moisture. So this is my routine with cilantro. As soon as I bring them home, I spread them on a kitchen towel and air dry for 30 minutes. I carefully pick out any old or discolored cilantro stems and leaves. I roll them between couple of paper towels that acts as a sponge for absorbing any transpiration or moisture buildup. Once rolled in paper towel, I place them in sealable plastic bags. They remain fresh from anywhere between 2 - 3 weeks.
Other herbs - Basil, mint, thyme, rosemary all store well for several weeks in refrigerator if stored the same way as cilantro.
Saffron - Saffron is a popular flavoring spice, which my husband refers to as "red gold" because it is expensive, that I extensively use while making sweets, drinks, biryanis and risottos. They are so flavorful that adding few saffron threads takes the dish to a whole new level. A local trader in my town gets the best quality saffron from Spain, but I have noticed that it looses its potency when exposed to air. I always keep the box of saffron in a storage/freezer bag, as these are air tight and keeps the freshness sealed in.
Some popular food items to store in Hefty® Slider Bags in freezer:

Spices and masala powders - Whenever I buy masala powder that comes in small boxes, I find a freezer bag that fits them and immediately transfer it to the freezer. Storing spices and powders in freezer bags not only keeps them fresh for a longer time, but also reduces spills and cleanups - and nothing goes waste. The shelf life is considerably increased because the likelihood of food bugs and worms attacking such items during warm humid months is reduced to almost nil by storing them away in freezers.
Chillies - I buy best quality serrano peppers, jalapenos, thai chilli peppers in bulk when they are available fresh in our farmers market. The first thing I do is I make sure to air dry them for about an hour. I have noticed that chili peppers stay fresh for a very long time when their stems are removed before storing them. So, I remove their stems and transfer them to Hefty® Slider Bags and you wont believe but they last fresh for months!
Curry leaves - Curry leaves are used as a seasoning in most South-Indian dishes. However this is a scarce resource, as fresh curry leaves are rarely available where I live. But, whenever I find some I treat it like "green" gold. I again remove them from their main stems (i.e. keep only the leaves), air dry them for couple of hours and store them in Hefty® Slider Bags and they stay fresh and flavorful for months.
Berries - I also store several berries (mostly blueberries, and raspberries) that were harvested when they were at their peak. I begin by first cleaning them in running water, air drying them for an hour, and then freezing them until solid on baking sheets before transferring them to freezer bags.
Flavored ice cubes - Freeze left over coffee and tea (both black), fruit juices, soups and broths in ice-cube trays. Once frozen they can be stored in freezer bags for several months. I specially use this technique to freeze coffee or tea or fruit juices to be used for chilling drinks for parties. Using this approach ensures that the drink I serve does not get diluted as ice melts away. Freezing them ahead of time, and storing in freezer bags keeps them fresh and flavorful.
Chapatis, naans, rotis, pizza - Left over flat breads and pizzas can easily to stored in freezer bags, and can be reheated when required. Perfect solution for working parents and bachelors. To prevent them from sticking to one another, I place a parchment / wax paper between each flatbread. Works like a breeze.
Leftover dosas, pancakes and waffles - Leftover dosa, pancakes, waffles stores extremely well when frozen in Hefty® Slider Bags for a long time. As with flat breads, I separate them with parchment/wax paper to prevent them from sticking before freezing. To reheat, I thaw them for 5 mins and use a nonstick stove top griddle or tava. For dosas and pancakes I sprinkle some water, and reheat with a covered lid. Waffles are mostly reheated in oven or toaster oven.
Coconuts - Freshly grated coconut will remain fresh in refrigerator for 3 to 4 days, but when immediately frozen they can stay fresh for several months - sometimes upto a year. I follow the same process for dry coconut slices, as well as toasted coconut flakes that I use for several Konkani curries.
Cupcakes, Cakes, brownies, pies - Most baked goodies freeze well for several months. I ensure these are first at room temperature. Then I freeze them on baking sheet for about 30 mins, then transfer them to sealed freezer bags for long term storing. For reusing, I thaw them in refrigerator overnight.
Nuts - I store dried cashew nuts (with and without skin), almonds, pecans, and walnuts in freezer bags. This ensures that their oils do not turn rancid and taste funny. Keeps the worms out, which can be an issue specially with cashews in warm humid climate.
Cheese - The only cheese I store in freezer is Parmesan. Whenever I get a block or a wedge of a good quality Parmesan, I immediately freeze it in Hefty® Slider Bags because I can never have too much of it in store. I know several of my friends also store other types of cheeses - so its a perfect solution.
Tropical fruits - I am a die hard fan of couple of tropical fruits, but I find it extremely hard to get my hands on the best quality fruits in my town. Whenever I visit a big city, I invariably visit either an Indian store or other international food markets and stock up mainly on premium quality mangoes and chikkus! I portion them in small freezer bags, which makes it easy for me to thaw them as required. I use frozen fruits when I am preparing a smoothie or a slushy - easy peasy!
Some rare type of lentils and beans that I occasionally get in Indian store - automatically finds its place in my freezer within Hefty® Slider Bags. They remain fresh for like ever, and I can prepare my husbands favorite lentil dishes any time of the year.
Vegetables such as drumsticks also store well in freezers. I first freeze them on baking sheets for an hour or so, then immediately transfer it to freezer bags, and I make sambhar whenever I crave for it.
Fresh peas, corn, corn-on-cob, field beans (avrekalu) also store well in freezer bags.
If I have extra freezer bags, I also use it to store biscuits, groundnuts as they are easily portable. The seal keeps it tight and stores right 🙂
Some additional tips before storing in freezer:
Remove most/all air. Presence of air, and moisture within air can lead to freezer burns. So make sure to remove as much air as possible before sealing the freezer bags.
Food items stick to one another as they freeze. To make it easy to access frozen items, you can place parchment/wax papers that prevent them from sticking to one another.
Create small portions. Storing food in small portions not only ensure they freeze quickly, retain delicate flavor, they are also easy to access when frozen. Instead of thawing a huge amount for food for consuming small amounts, it can be more efficient to store them in smaller portions.
For quicker freezing, ensure they are not stacked with everything else. If you allow more air to circulate around the item that you are trying to freeze, the faster you will accomplish this. Food will remain fresh and your energy bills will also be low.

For more recent updates, follow me on Pinterest, Facebook, Instagram, Twitter, GooglePlus.
***Click below to save it on Pinterest***