This post is sponsored by Simple Sesame Brand but the content and opinion expressed here are my own.
Sizzling Brownie is a delicious melt in mouth dessert where brownie is served on a hot sizzler plate with a scoop of ice cream and topped with chocolate sauce and nuts of your choice. I have prepared brownie using Simply Sesame's vanilla with almond bits spread and homemade ice cream using pure roasted sesame flavor. I call it a 3 in 1 recipe 🙂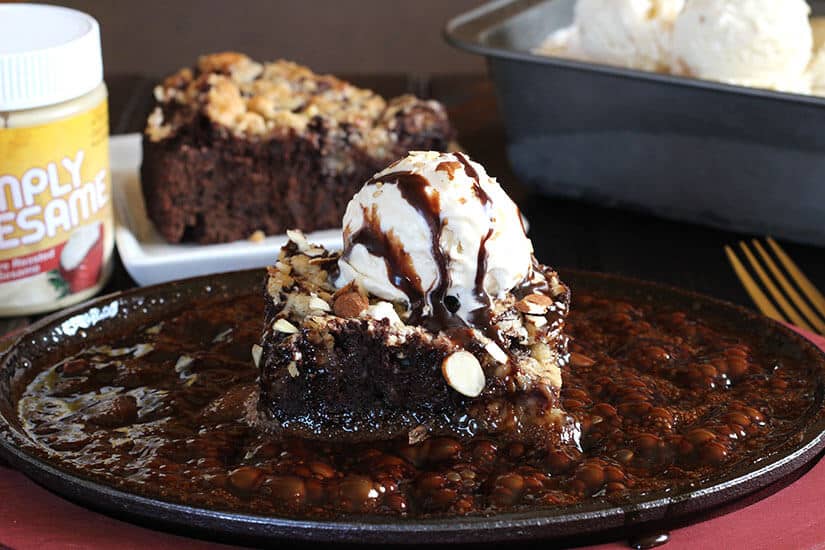 I decided to participate in the Simply Sesame blogger recipe challenge using their delicious creamy sesame spread. The spread comes in three delicious flavors - pure roasted sesame, vanilla with almond bits and pistachio morsels. This challenge required me to prepare a recipe using one of the flavors. I did not have to think twice before applying to this contest. I am glad that I was selected to participate in this challenge. The folks at Simple Sesame were prompt in sending me their products and following up with me during the process. It has been a pleasure collaborating with them! Do not forget to follow Simply Sesame on Facebook, Twitter, Instagram, also check their website for their amazing products.
As soon as the Simply Sesame products arrived, my husband and I tried all three flavors and fell in love with each of them. The best part is you can have this spread all alone. It was finger licking good, plus these products are non-GMO, all natural, gluten free and low in cholesterol. As all three flavors were so good, I was in a fix on which one to choose for the recipe.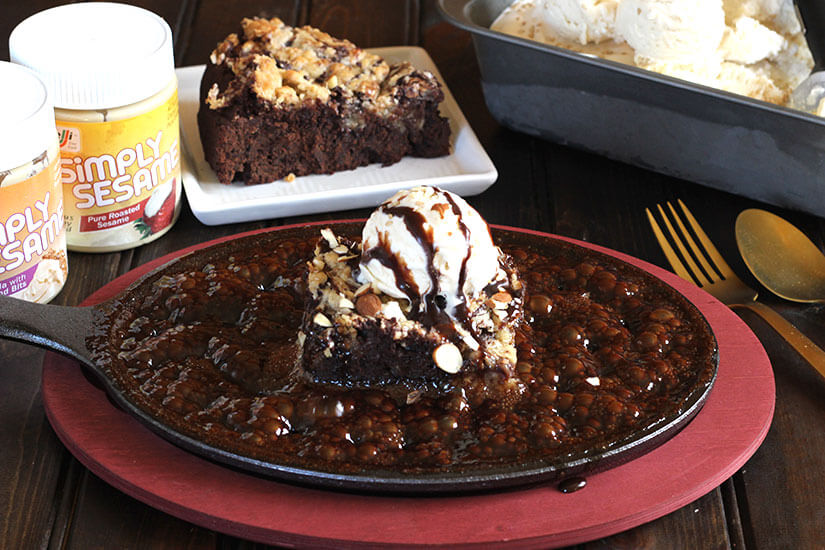 After much pondering, I finally decided to use 2 flavors to prepare Sizzling Brownie. Generally for sizzling brownie, a chocolate brownie is served with pure vanilla ice cream and melted chocolate. I decided to give a twist by using vanilla almond flavored sesame spread for preparing brownie and pure roasted sesame flavor for ice cream. The outcome was super hit. The brownie was rich, gooey and decadent that satisfied all our sweet cravings and the ice cream was smooth, creamy and amazingly flavorful and was prepared using only 3 ingredients.
Once the brownie is ready, all you need to do is, place a brownie slice on a hot cast iron serving plate, top it with a scoop of homemade ice cream, and garnish with chopped or sliced nuts of your choice and a generous drizzle of melted chocolate. As soon as the meted chocolate hits the hot cast iron plate it will start sizzling and create a festive atmosphere. The aroma of sizzling chocolate sauce will make you go crazy. So make sure you plate it just before you are ready to serve to impress your guests or your loved ones.
When I am really in a mood of eating a good dessert, I have this sizzling brownie as one complete meal 🙂 One of the best dessert combination. Else have one of the two after lunch or dinner.
I have given recipe below in two parts. Please do try out this amazing combination and share your comments and variations.
Preparation time : 50 minutes
Serves : one-9 inch pan brownies
Ingredients for Sesame Chocolate Brownies
For the brownie
Semisweet chocolate chips - ½ cup
All purpose flour - 1 ½ cup
Cocoa powder - 1 cup
Instant coffee powder - 1 tsp
Salt - ½ tsp
Baking powder - 1 tsp
Sugar - ½ cup
Brown sugar - ½ cup
Vegetable oil - ½ cup
Water - 1 cup + 2 tbsp
For the sesame swirl:
Simply Sesame's Vanilla Almond Bits - ½ cup
Confectioners sugar - ¾ cup
All purpose flour - ¼ cup
Vanilla extract - 1 tsp
Water - ½ cup
Steps to prepare Sesame Chocolate Brownies
Step I
Preheat the oven to 350 F. Grease a 9 inch round baking pan and keep this aside.
In a large microwave safe bowl melt chocolate chips with 2 tablespoon of water for about 30-60 seconds.
To the same bowl add all ingredients listed under 'For The Brownie' and mix using a hand held blender until just combined. Do not over mix.
Step II
In another bowl mix together all ingredients listed under 'For The Sesame Swirl' using a spatula or a whisk. This mixture is going to be relatively thick.
To the greased baking pan, first pour chocolate brownie batter and spread evenly using a spatula. Then add dollops of sesame butter mixture and swirl it in the brownie batter using a knife.
Bake on middle rack for 35 to 40 minutes or until a toothpick inserted comes out with few wet crumbs.
Let it cool completely before slicing. It remains fresh outside when stored in an airtight container for a week, couple of weeks in refrigerator, and several months in a freezer.
Sesame Chocolate Brownies are now ready. Serve and enjoy.
Preparation time : 20 minutes
Set time : 8 hours or overnight
Serves : 4 to 6
Ingredients for Sesame Ice Cream
Simple Sesame's Pure Roasted Sesame Spread - ⅔ cup
Sweetened condensed milk – 14 oz (397 g)
Heavy cream – 1 pint (473 ml)
Steps to prepare Sesame Ice Cream
Step I
To a large bowl add pure roasted sesame spread, sweetened condensed milk and using a beater whisk well.
Step II
In a separate clean bowl, whip heavy cream till it forms firm peaks.
Add ⅓ portion of whipped cream to the mixture prepared in step I and fold gently.
Repeat the process for remaining whipped cream.
Put it in freezer and let it set for about 3 to 4 hours or overnight.
Sesame Ice Cream is now ready. You can garnish it with some toasted sesame, serve and enjoy.
For Assembling Sizzling Brownie
You will need a sizzler or fajita plate. Even a cast iron plate can be used for the same.
Additional ingredients needed are chocolate sauce, sliced almonds, and toasted sesame.
Heat sizzler plate on high flame till it is hot. Pour 2 tablespoon of chocolate sauce on the plate.
Now place a slice of sesame chocolate brownie at the center with a scoop of sesame ice cream on top of it.
Finally drizzle some more chocolate sauce and garnish with some toasted sesame and sliced almonds.
Sizzling brownie is now ready. Serve hot immediately and enjoy.
For more recent updates, follow me on Pinterest, Facebook, Instagram, Twitter, GooglePlus.
***Click below to save it on Pinterest***