Navratri Recipes: In this post you will, you will find a list of fasting, vrat, and upvas recipes prepared during the Navratri festival. Also, I have shared the significance & importance of 9 days and fasting rules to be followed.
This year, Navratri will begin on Sunday, 15 October 2023, and ends on Tuesday, 24 October 2023.
Jump to: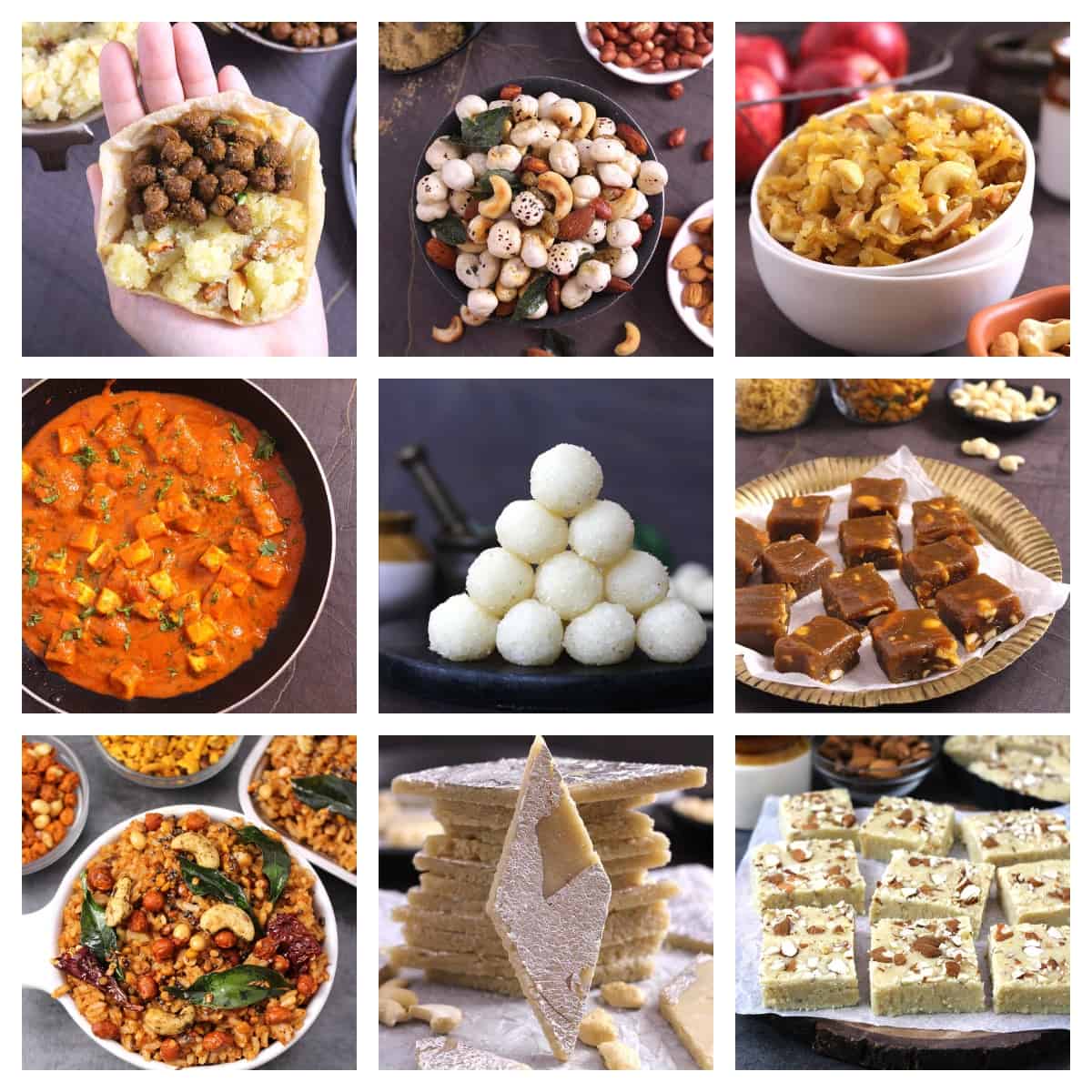 Sharad Navratri or Durga Navratri
Sharad Navaratri is an auspicious and popular festival celebrated across the Indian sub-continent to worship Goddess Durga.
'Nava' means nine, and 'Ratri' means nights, a festival celebrated for nine nights and ten days. The 10th day is called Dusshera (or dussera also as Vijayadashami). This festival begins on the first day of Ashwin shukla-paksha (1st day of the bright fortnight of lunar month Ashwin). We call this Sharadiya Navratri, Durga Navratri, Karthik Navratri, Asoj Navratri, which is different from Baisakhi Navratri, which happens in the month of April.
Every night of the festival, a new avatar (or cosmic form) of Durga is worshipped. Devotees fast during the day, offer different pujas, and read texts such as Durga Saptashati, Lalitashasranama, and others that praise the valor and describe the beauty of the Goddess.
In the evening, devotees sing bhajans, perform puja, offer specially prepared naivedyams (or bhog or Navratri recipes), and then distribute naivedyam among other devotees and friends.
Mangalore Dussehra
Since I come from the Konkan coast, at all Devi temples, anna-dana (distribution of cooked food) is a common feature. Similar to puja celebrations in West Bengal, the clay idol of the Devi is worshipped mainly in the form of Sharada (Goddess of Knowledge).
In Mangalore, at Kudroli Gokarnanathakshetra (temple), clay idols of all 10 forms of Devi, along with Sharada and Ganesha idols, are worshipped for a period of 10 days, and on the 10th night, these idols are taken on tableaux across the city with lot of pomp and celebration. The tableaux procession lasts for around 12 hours and the idols return to the temple where one last puja is performed before being immersed in a large temple pond.
This celebration has been popular in Mangalore for the last 20 - 25 years and is popularly referred to as Mangalore Dussera. Sharada pooja is also very popular at Venkataramana Temples in the konkan region and the most popular among them are in Venkataramana Temples at Mangalore, Karkala, and Udupi. Dussera celebrations in Mysore is so famous that people from all over the world visit the city of Mysore to participate in the festivities.
Most of the time winter break at schools coincides with this festival. Given this convenience, family get-togethers are very common. A variety of food and snacks are prepared from breakfast to dinner, and everyone has a gala time. The delicacies prepared are usually first offered as bhog, and naivedyam to the Goddess, and therefore, the menu is planned in accordance with its importance to the festival.
I have put together a list of the main Deities for each day, the main ingredient used in each day's bhog or Navratri recipes main ingredient and its importance according to the scriptures. Along with the list, you can also find a list of recipes from my blog that you may prepare during the festival. Hope you all have a great time this Navaratri with your family and friends!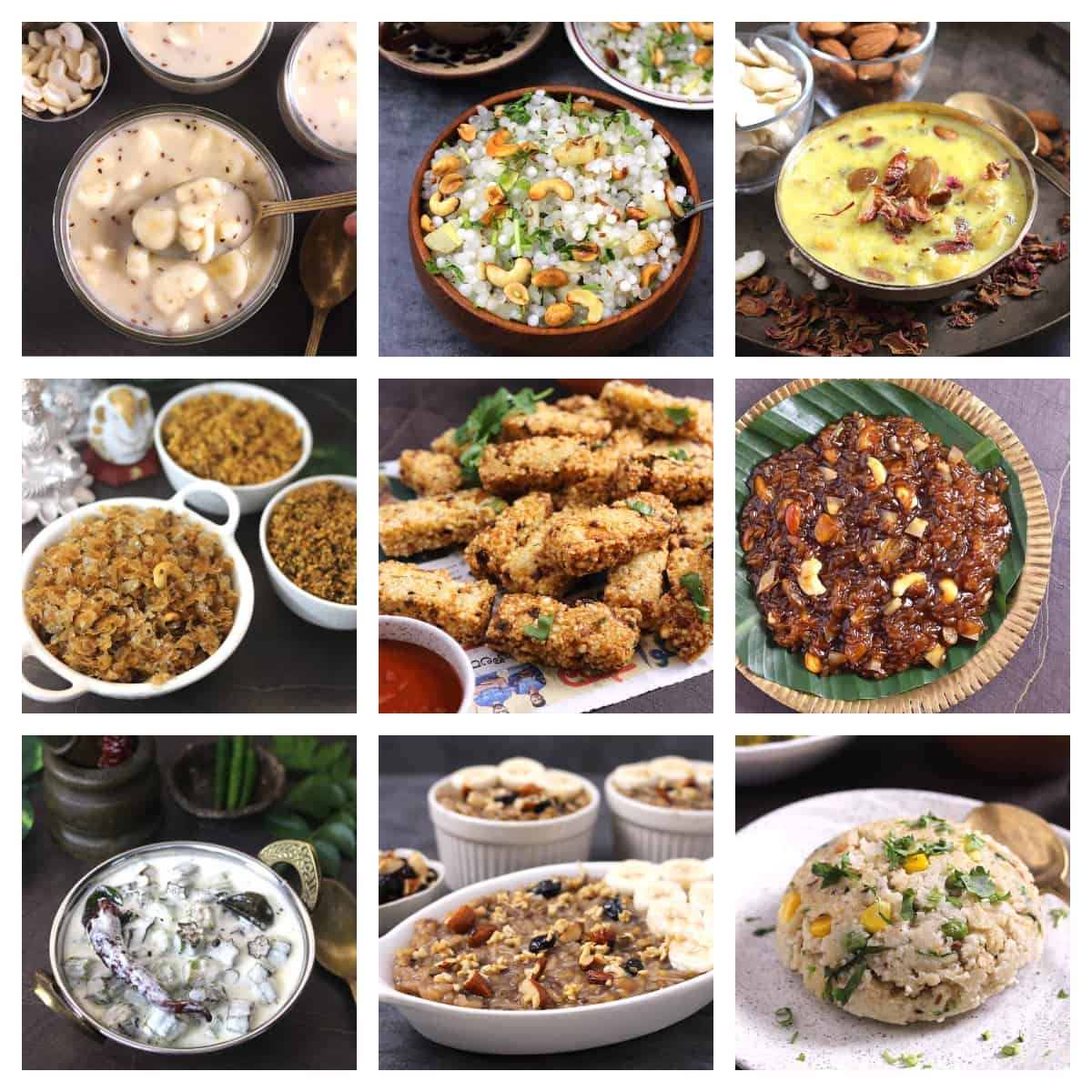 Importance or Significance of 9 days of Navratri :
Goddess Shailputri (daughter of the mountain) is the deity of worship on the first day of Navaratri. By offering ghee or bhog prepared in ghee, devotees are believed to be blessed with good health.
The ascetic Maa Brahmacharini is worshiped on the second day of Navratri. Just like her pure white saree, she is pleased with bhog prepared in white sugar and blesses devotees' family with longevity.
Maa Chandraghanta is worshiped on the third day of this auspicious festival. Chandraghanta means half-moon shaped like a bell - Maa is believed to adorn a half-moon as the jewel in her forehead. Devotees of Maa Chandraghanta are absolved of all sins & mental stress and filled with courage. On this day, offer naivedyam prepared using milk.
Maa Kushmanda is the Goddess of health, wealth and strength and is the deity of worship on the fourth day of Navaratra. Devotees can seek her divine blessings by offering malpua as bhog.
On the fifth day of Navratri, Skandmata - meaning the mother of Skanda, is worshiped by offering delicacies prepared using bananas. She blesses her devotees with salvation and prosperity.
The daughter of Katyayana i.e., Maa Katyayani is worshiped on the sixth day of navaratri. Devotees who offer honey or naivedyam prepared with honey are blessed with good looks.
Goddess Kaalratri, or Kalaratri, is the fiercest form of Navadurga. Devotees who offer Jaggery or bhog prepared using jaggery are blessed with confidence and can get rid of all negative energies.
On the eighth day of Navratri, also called as ashtami or durgaashtami Maa Mahagauri is worshiped. Devotees can seek her blessings by offering coconut or bhog prepared using coconut. Goddess blesses devotees with health and prosperity and fulfills all their wishes.
On the ninth day, Mata Siddhidatri blesses devotees with extraordinary powers. Bhogs prepared using til or sesame seeds are known to please the Goddess.
Navratri South India
In South India, many devotees read Lalitasahasranama during Navratri. The verses in this text reveal that Goddess Durga (Lalita) can be pleased by offering rice-based dishes on each day of Navratri. I have given below nine rice dishes, no onion, no garlic, that I offer as prasadam or bhog to goddess Lakshmi.
Once again, I wish you all a very happy and prosperous Navratri (Dussera), Durga Puja
Fasting Rules (Food you can eat while upvas, vrat)
Fasting rules vary from one region to another. I know people who eat only fruits and milk for nine days, and some people eat just one meal a day, while others skip adding salt and use rock salt or sendha namak. Nothing is right or wrong in what another person is doing. It is all about what you have been following in your community and your belief system.
Some basic rules that I know are:
You can consume any variety of fruits and dry fruits.
Restrictions on the use of flour and grains - It depends on what you have been following traditionally. For example, in a South Indian Konkani household, rice is not allowed till the pooja is complete, but you can eat anything with semolina(sooji), poha, and wheat. But for many in North India, you are not supposed to eat anything with wheat or wheat products instead people prefer to use water chestnut flour (singhare ka atta), buckwheat flour (kuttu ka atta), amaranth flour (rajgira ka atta), arrowroot flour (kuve pita), sabudana pearls or flour, barnyard millet (sama ke chawal, samo rice)
Any greens like spinach and herbs are not consumed in some parts of India.
You must prepare all food without the use of onion and garlic.
Milk products and dairy products are allowed.
Non-veg food is a strict no-no.
Drink plenty of water/coconut water/fruit juices and stay hydrated.
For more recent updates, follow me on Pinterest, Instagram, Twitter. Tag me with #cookwithkushi on Instagram so that I get a chance to see all the Navratri recipes you make and give it a .
Sweets and desserts for Naivedyam, Prasad, Bhog
Any festive meal is incomplete without mithai, Indian sweets & desserts. I am sharing some of the simple, quick, and easy recipes that you can make ahead and store to consume during vrat or upvas days, also offer to goddess Lakshmi or maa Durga in the form of Prasadam, naivedyam or Bhog during Navaratri festival. Some of them are made using milk and milk-based products, jaggery, some with fruits, and some flourless (without any flour)
Burfi Recipes or Barfi Recipes
Ladoo Recipes or Laddu Recipes
Halwa Recipes
Payasam, Payasa, Kheer Recipes
Milk Based Sweets using milk, paneer or milk powder
Other Indian sweets for fasting, upvas
Lunch, Breakfast, Dinner (Aloo, Chana, Paneer, Sabudana, Samak Chawal )
During the festival people generally prefer to have the same recipe for all three meals - breakfast, lunch and dinner. I have no onion, no garlic fasting recipes made using paneer, chana (black chickpeas), aloo (potato), sama ke chawal (barnyard millet, samo rice), sabudana (sago, tapioca), toor dal, yogurt (dahi), moong dal. Skip salt and add rock salt (sendha namak) if preferred.
South Indian Rice
In South India, during Navaratri rice is offered to a god in the form of naivedyam or prasad every day. It can be a sweet or savory dish. But all are no onion, no garlic recipes.
Recipe FAQs
Did you like this recipe? Please leave a star ⭐️⭐️⭐️⭐️⭐️ rating below and/or a review in the comments section. You can also stay in touch with us through social media by following us on Pinterest, Facebook, Instagram, and Twitter.
Recipe card