This post is sponsored by Stella® but the content and opinions expressed here are my own.
Coin Margherita Pizza is a thin and crispy crust pizza bursting with flavors from fresh, soft and chewy mozzarella cheese, tanginess from tomatoes and sauce, and sweet aroma from basil leaves.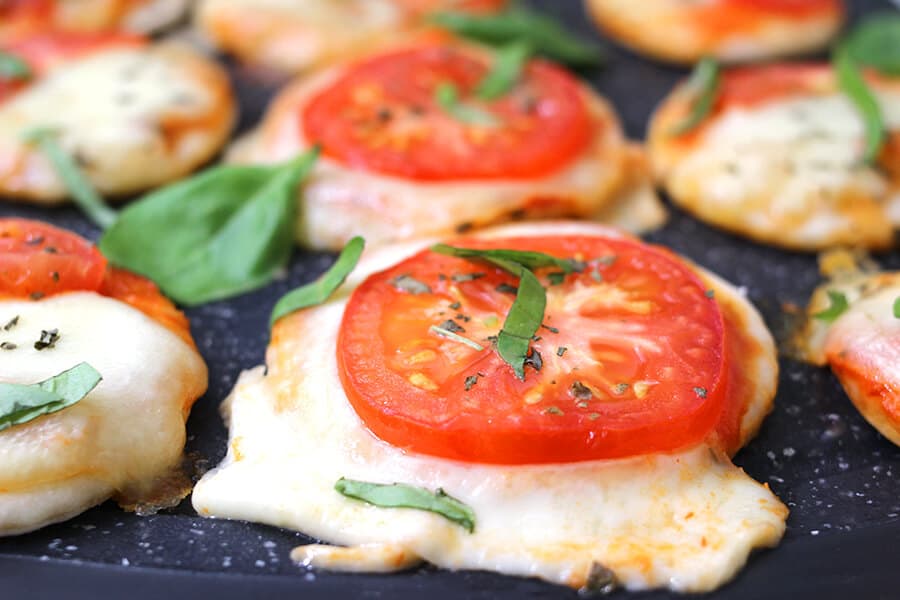 Today I have partnered with Stella® to prepare these irresistibly delicious treats using their Fresh Mozzarella Cheese
Margherita is one of my favorite. It's a classic dish. Combine three simple ingredients - fresh mozzarella cheese, tomatoes and basil and see the magic that happens in your kitchen. You cannot beat a dish that is fresh and simple. Most of the times, simplest dishes are the ones that become show stoppers 🙂 I use these three ingredients in pastas, pizzas and even in sandwiches. It tastes great always.
Since summer is here, I could not find a better way than to welcome it with these coin size pizzas. Summer is the time of the year where we, as a family, end up spending most of the time on road trips, potlucks, picnics and beaches. This pizza would be perfect to be served at these venues. So don't forget to add this in your summer to-do list.
I have used fresh mozzarella from Stella® . They are so fresh with milky flavor and soft & delicate texture. With the subtle flavor and creamy texture, this mozzarella cheese enhances any dish that you add this in - from salads to pastas to pizzas - and makes it a memorable dish. For more details visit their pinterest page. You can see my love for the cheese in above pictures. We love pizzas and pasta when the cheese is little excess than needed 🙂
Kids love bite sized food and then love even more when they see the change in the way food appears if I'm not wrong 🙂 It's even more fun when you get them involved with you in kitchen 🙂 Give them a cookie cutter and allow them to cut out mini pizza bases from the rolled-out dough. I have presented it in two ways:
For the first method : Spread sauce on the base, add thick fresh mozzarella slices and top it with fresh tomatoes and basil. This is to get that oozing cheese out, as we all love cheese !
For the second method : Spread sauce on the base, add half chopped tomatoes and half fresh mozzarella and sprinkle fresh basil. This is to make it more colorful and attractive.
Kid's love variety and I love experimenting in my kitchen. We love regular margherita pizza which you can prepare from the same dough, but sometimes change is always good and if the change makes everyone happy why not make the new change frequently 🙂
If you ask me why should you try this pizza? It's
Cheesy
Cute bite-sized treats
Savory
Crispy on the edges
Customizable
Mouth-watering and delicious!
This can be served as party snack, finger food or even as appetizer for lunch or dinner. All you need to do is to just see how your kids, family and friends gobble it 🙂 Oh wait, don't forget to reserve some for yourself because this is going to disappear in matter of seconds.
If you are a cheese lover just like us then don't miss to give this recipe a try. While you are here you can also check out my other pizza recipes
I would love to know which are your favorite pizza toppings or cheese blends in the comment section below. I would love to give it a try.

Preparation time : 2 hours
Serves : 24 coin pizzas (may vary depending on the size of the pizza)
Follow me on Instagram and tag me with #cookwithkushi so that I get a chance to see all the recipes you make and give it a ♥.
Ingredients for Coin Margherita Pizza
For the dough
All purpose flour - 3 cups
Warm Water - 1 ½ cup
Salt - 1 tsp
Sugar - 2 tsp
Active dry yeast - 1 packet ( 2 ½ tsp)
Olive oil - 1 tbsp
For the topping
Pizza sauce or any tomato sauce of your choice - 1 cup
Fresh Mozzarella Cheese - 8 oz ( I have used Stella® )
Tomatoes chopped - 3
Basil leaves torn - 8 to 10
Dried basil leaves - 1 tsp
Steps to prepare Coin Margherita Pizza
Step I
Step III
Rolled each portion to ¼ inch thickness and using cookie cutter, cut them into rounds, re-rolling scraps as necessary.
Place these rounds in a single layer on baking sheet lined with parchment paper or on flour or corn-meal dusted baking pan.
Top the crust the way you desire. I have topped it two ways : First method : Add in teaspoon of sauce followed by thick slice of fresh mozzarella, tomatoes and sprinkle some dried basil leaves. Second method : Add in teaspoon of sauce, then add half slice of tomato and half slice of mozzarella and sprinkle some dried basil. This is to give it a new look 🙂
Bake in the preheated oven for 4 to 6 minutes or just until cheese melts.
Sprinkle some fresh basil as soon as it is out of the oven.
Coin Margherita Pizza is now ready. Serve and enjoy.
For more recent updates, follow me on Pinterest, Facebook, Instagram, Twitter, GooglePlus.
***Click below to save it on Pinterest***