Whether you are looking for quick and easy mango recipes with fresh, sweet, and ripe mangoes or using sour and unripe mangoes, I have the best recipe collection from around the world below.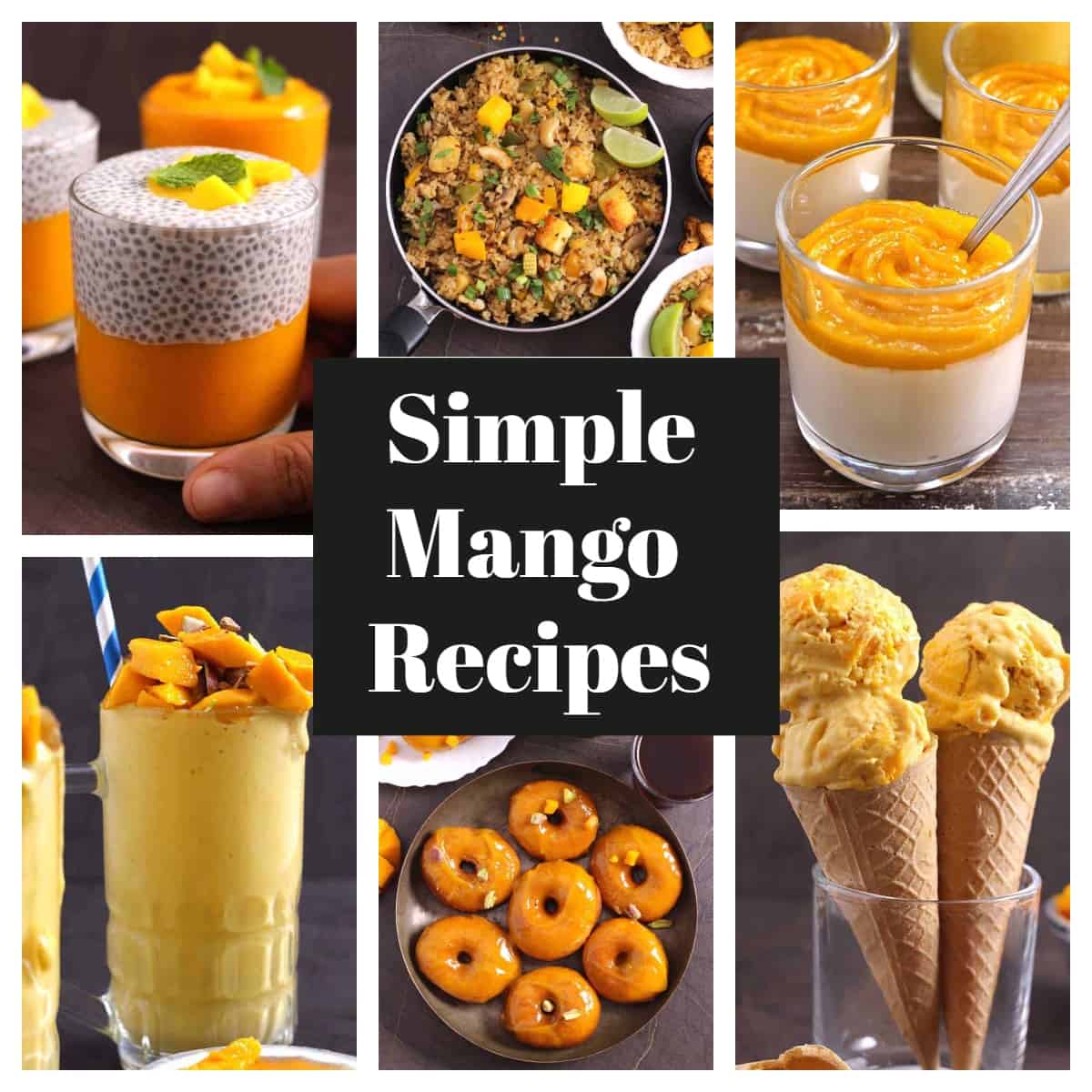 Summertime is when all the farmer's markets are filled with a variety of mangoes and their sweet aroma. In India, mangoes are available from March to May, but some varieties are available until the end of August. However, from personal experience, the best mangoes are available in the months of April and May, as it is the peak season for this fruit. Once the rainy season starts, the mangoes won't be as sweet and have a short shelf life.
Jump to:
In the USA, local mangoes (from Florida, Texas, etc.,) and mangoes from Caribbean Islands, Mexico, etc., start flooding the local US markets from July to September. However, imported mangoes from India, Indonesia, Philipines, etc., are typically available in International grocery stores throughout the year.
Which type of mango is best for recipes?
Do not worry if you cannot find fresh mangoes in your local markets. You can make the mango recipes shared below, even with frozen mangoes. Also, please pay attention to the cultivar or the variety of mango when purchasing them. The best quality mangoes always taste better.
For desserts and drinks such as mango doughnuts, eggless mango bread, mango mastani, etc., I like to buy Alphonso, Kesar, Dasheri, Badami, Gulab Khaas, and Kent variety of mangoes as they are sweet, pulpy with a small seed, and not fibrous.
If a savory mango recipe, such as avnas ambe sasam, ambe upkari, etc., calls for sweet mango, I again prefer to use non-fibrous ripe mangoes. I buy other varieties of mangoes such as Totapuri, Appe Midi, etc., mainly when they are used raw (or in their unripe state) to make savory dishes such as pachadi, mango chitranna, pickles, chutney, curries, etc.
Simple Mango Recipes
The easy and healthy mango chia pudding is my favorite among all the mango recipes. This recipe is so simple that it can be prepared in less than 5 minutes. Indeed, the best way to kick start your day or even as a mid-day snack to beat the summer heat. I like to serve this pudding chilled.
Below is a comprehensive list of mango recipes you can prepare in your kitchen. These recipes are not just for desserts and drinks, but I have also covered savory dishes with mango as the main ingredient that you can serve for breakfast, lunch, and dinner. Thai Mango Fried Rice is my family's most requested dish during the mango season. I highly recommend you try this out!
Mango FAQs
More Fruit-Based Recipes
Did you like these recipes? Please leave a star ⭐️⭐️⭐️⭐️⭐️ rating below and/or a review in the comments section. You can also stay in touch with us through social media by following us on Pinterest, Facebook, Instagram, and Twitter.
Recipe card