The most famous and biggest Indian festival - Diwali or Deepavali, is celebrated from Sunday, 12th November 2023, to Tuesday, 14th November 2023. Food plays a key role in Indian Diwali celebrations, and a variety of food recipes are prepared and shared with friends and families. I am super excited and have already started my preparation for the same, and I know it's the same for all of you.
To make your task easy and receive a lot of compliments for your special Diwali food from family and friends, I have shared a collection of Diwali snacks recipes and the Best Diwali sweets and savory recipes, and I promised to share the Diwali sweets list soon. #diwalisweets #diwalidesserts #mithai. Here is my quick roundup of easy, delicious, and melt-in-mouth homemade Diwali sweets, mithai, or dessert recipes.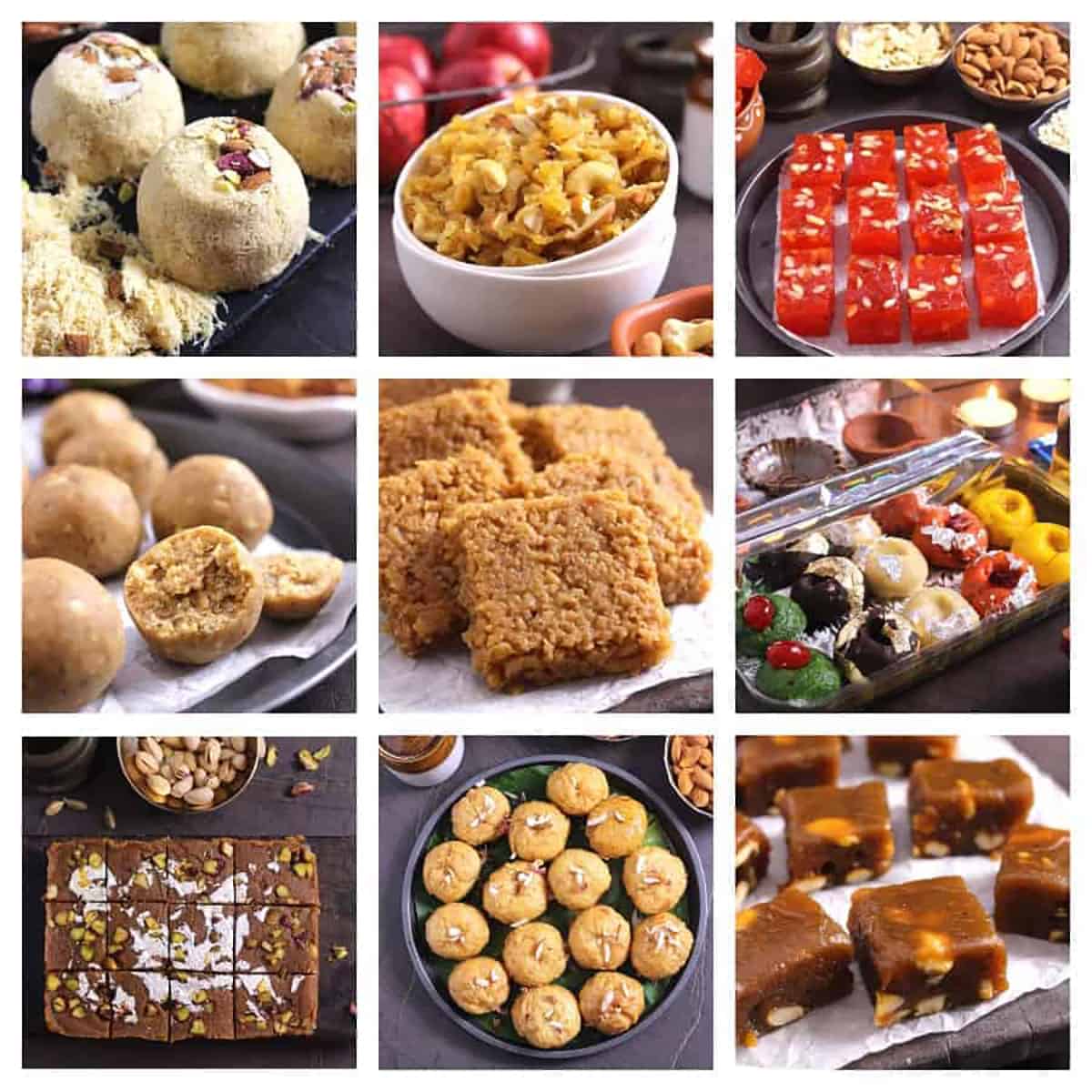 Jump to:
What is Diwali?
Deepavali is a Sanskrit word that means "row of lights or festival of lights," and Deepawali is the term commonly used in South India, and in North India, it is called Diwali. The word Diwali symbolizes the victory of light over darkness, knowledge over ignorance and good over evil.
These traditional Indian sweets or mithai recipes are easy to make at home and will be a super hit at your home this Diwali festival celebration or party. The Deepavali sweets list below also contains recipes that can be prepared ahead of time and can be given in the form of gifts or mithai boxes to your family and friends. Isn't that amazing?
I have unique Diwali sweets, Easy sweets for beginners, and some traditional Deepavali recipes. All you have to do is pick your favorite may be Burfi (barfi), Laddu (ladoo), Gulab Jamun, Kheer (Payasam), Nankhatai, Jalebi, Balushahi, Halwa, Cakes, Cookies, Drinks, milk-based desserts, coconut sweets, etc.
I wish you all a pleased and prosperous Diwali 2023 (Deepavali 2023)!!!
While here, check out different Snack recipes for your Diwali party. You can also check out Indian fasting or upvas recipes or vrat ka khana for karwa Chauth 2023 (Karwa chauth)
And don't forget some of these diwali dessert recipes can also be used for your upcoming tailgating events, game nights, potluck or Easter, Thanksgiving 2023, and Christmas holiday parties!
Also you can check our collection of best and popular Indian desserts and sweets for any occasions.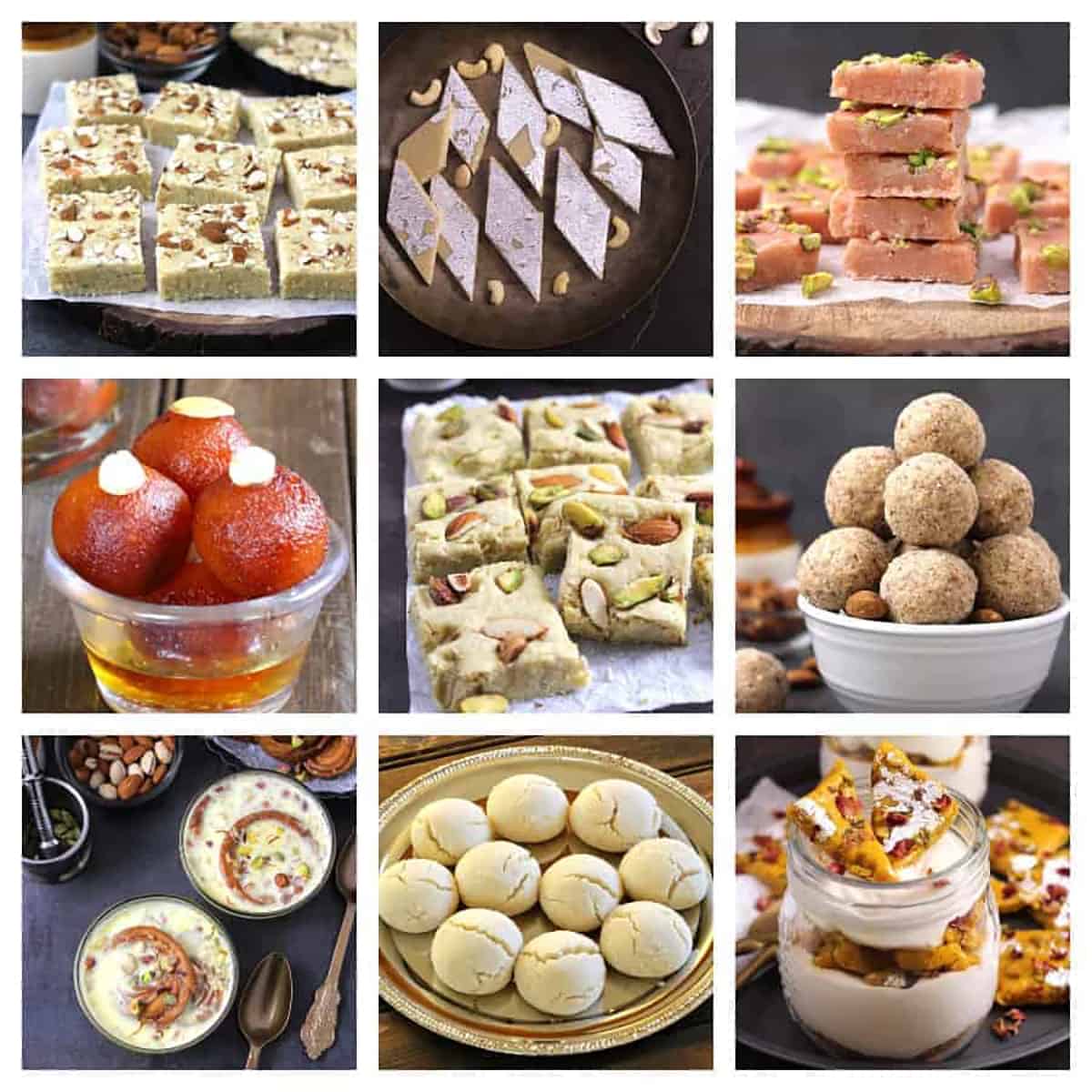 When is Diwali?
This year, Diwali is celebrated from Sunday, 12th November 2023, to Tuesday, 14th November 2023 in India, USA and worldwide.
When is Karva Chauth 2023?
Karwa Chauth is celebrated on Wednesday, 1st November, in India, USA, Canada, and all across the world.
Best Diwali Desserts & Sweets
This section is a list of traditional and authentic Indian desserts and sweets made for the Deepavali festival. All homemade. It includes popular mithai gulab jamun, mysore pak, kaju katli, besan ladoo, ragulla, coconut ladoo, milk barfi, jalebi, soan papdi, balushahi, Karachi halwa, rasmalai, gajar halwa, badam halwa, peda, shrikand, malpua, dry fruit chikki, ghevar, etc.
Prasad recipes for Diwali Puja
Some traditional recipes that are offered for Goddess Lakshmi during Diwali Pooja, which is then distributed as prasadam, include halwa, sheera, sweet poha (panchakajjya), panchamirtham, etc.
Easy Diwali Sweets for Beginners
This section is a complete list of diwali desserts that any beginner or bachelor can make or quick recipes for last-minute celebrations. Requires minimal ingredients and easy steps.
Burfi or Barfi Desserts
Burfi or Barfi is often distributed as gift boxes or mithai boxes during special occasions and festivals. It includes popular milk burfi, kaju katli, badam burfi, besan burfi, 7-cup barfi, rose burfi, etc. Pick your favorite.
Ladoo
Like burfi sweets, laddu mithai can also be made ahead of time and is one of the good options for your Diwali gift boxes or mithai boxes.
Halwa
Halwa, popularly known as Indian pudding, is made using flour or dry fruits and nuts. From the world-famous carrot halwa pudding to Mangalorean banana halwa, we have covered you all. If you want to make something special but easy for the festival, try Indian halwa pudding desserts.
Kheer or Payasam
Indian festivals or celebrations are incomplete without kheer or payasam. North India and South India have unique styles of preparing payasam and kheer. Some of the best recipes include sabudana kheer and vermicelli kheer, and you have many more variations on my blog, from chana dal kheer, nei payasam to aval payasam, sweet pongal, khichdi, Kesari bath etc.
Unique Diwali Sweets
These unique sweets include grandmother's recipes like manni (duddali), phenori to a fusion of Indian and Western recipes, which are a total crowd-pleaser at your Diwali parties. It includes truffles, cheesecake and cheesecake jars, macaroons, etc.
Other Milk-based desserts
Most Indian sweets use ghee, milk, and sugar as main ingredients and are flavored with cardamom or Saffron. Especially sweets like burfi are made using milk.
Cold Treats
This section of Diwali food includes popular and royal rose falooda, rasgulla falooda, mango mastani, mango lassi, roasted almond ice cream, etc. Serve it with some Diwali snacks.
More Diwali Food
Did you like this recipe? Please leave a star ⭐️⭐️⭐️⭐️⭐️ rating below and/or a review in the comments section. You can also stay in touch with us through social media by following us on Pinterest, Facebook, Instagram, and Twitter.
Recipe card