Looking for traditional, easy-to-follow, and must-try Eid recipes? You are at the right place. This post is about Eid recipes from dinner to desserts that are easy and delicious and provides the best way to break the fast with family and friends during the holy month of Ramadan. You can go through this complete menu for Eid and prepare your favorite dishes for either Eid ul Fitr or Eid ul Adha.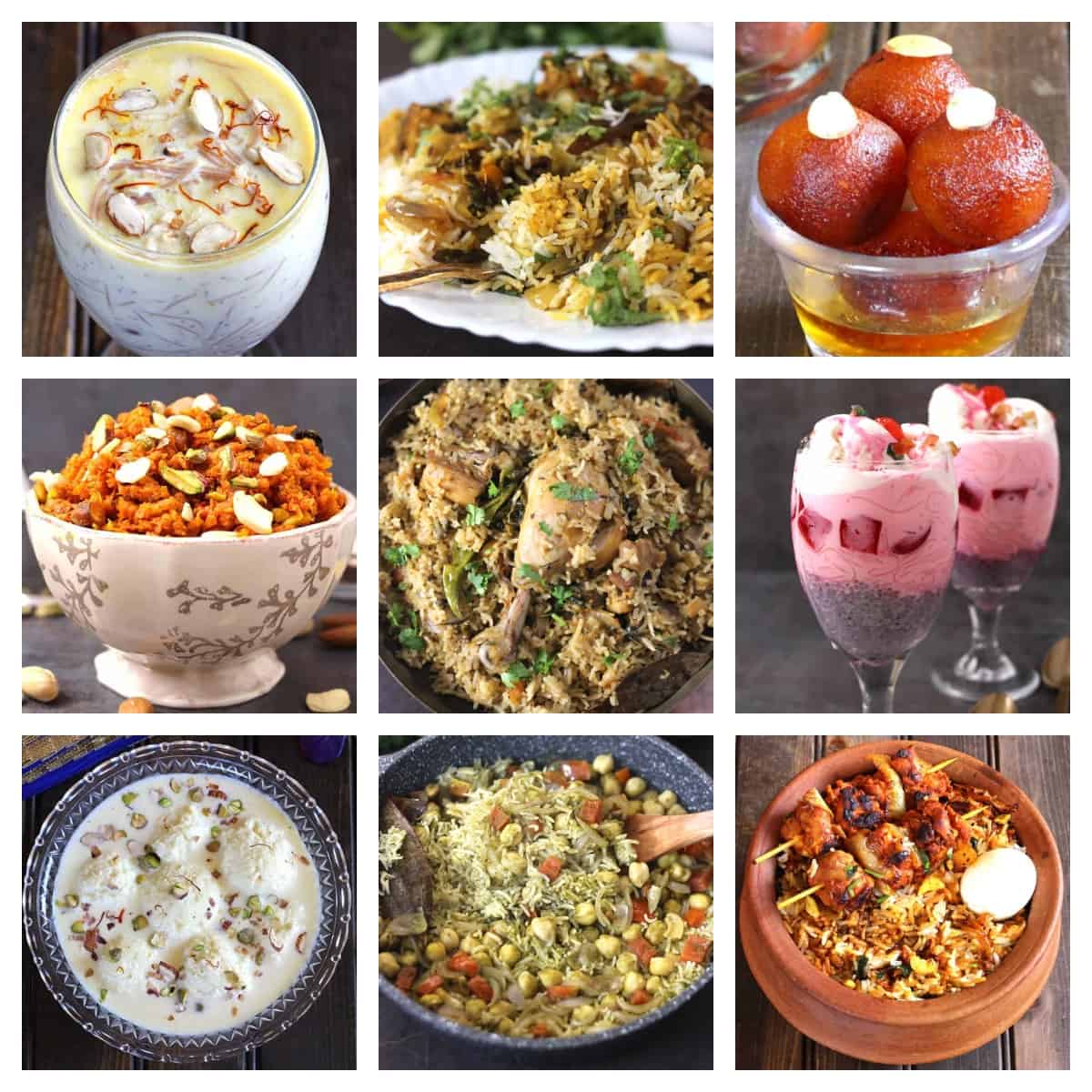 Jump to:
What is Eid?
Eid means festive in Arabic, a Muslim holiday around the world that marks the end of Ramadan, the holy month of fasting. There are two main Eid celebrations.
Eid al-Fitr (choti Eid): This marks the end of Ramadan and is celebrated through the exchange of sweets. Vermicelli-based kheer, called sheer khurma or vermicelli seviyan, is the traditional and most popular Eid dessert. Milk-based sweets such as gulab jamun, phirni, and barfi are also prepared. You can check some of the best desserts and sweets that you can make on the occasion of Eid.
Eid al-Adha (Bari Eid | Bakra Eid): On this special day, most people cook from the sacrificed meat and share it with family and friends. So many meat-based dishes like biryani, pulao, nihari, kebab, and korma are prepared for Bakrid.
To easily plan your Eid Dawat menu, I have categorized food recipes into appetizers, side dishes, chicken recipes, rice-based dishes, vegetarian recipes, desserts and sweets, and drinks & ice cream. You will see Eid recipes from Indian, Pakistani, Bangladeshi, and Middle-Eastern cuisine. I have also shared freezer-friendly, make-ahead options, easy, quick recipes, and marination tips in recipes wherever relevant.
Appetizers and Side Dishes
Some of the best appetizer and side dishes that you can prepare to make your Eid dinner table look more festive are listed below. Depending on your crowd's preference and taste and the region you belong to, this list will help with your Eid menu planning.
Some popular starters and sides include chicken tikka, crispy and flaky samosa, dahi bhalla, chana chaat, aloo tikki, falafel, hummus, pakoras, grilled vegetables, baba ganoush, soup, stuffed grape leaves, etc.
Main Dishes for Dinner
Chicken Recipes
Eid is incomplete without rice dishes like biryani and pulao made using chicken (murgh), lamb, or mutton. You can substitute chicken with your favorite meat in all the recipes here.
Some popular dinner recipes include korma, biryani, butter chicken, tandoori chicken masala, chicken or lamb curry, roasted lamb, beef or chicken, kofta, and haleem.
Vegetarian Recipes
If you have vegetarian friends and family, then check out this section. These are not only simple but also delicious that even meat eaters will enjoy.
You can make vegetarian biryani, chole biryani, palak paneer, chana masala, paneer tikka masala, aloo matar, bhaturas, lentil soup or dal. If you are still looking for Eid menu ideas to cater to your vegetarian guests, then look no further than the recipes below!
Traditional Eid Sweets and Desserts
Eid dawat is incomplete without Eid special seviyan recipe called sheer khurma or vermicelli kheer.
There is always room for more desserts and sweets right? You can add some of the popular Eid dessert recipes like gulab jamun, rasmalai, baklava, basbousa, kheer, gajar ka halwa, barfi, ladoo, zarda, kheer, etc. If you are looking for easy-to-follow Eid sweets and dessert recipes, then check out the list below.
Drinks & Ice Cream
Who would not love a cold treat to accompany an Eid dinner or an ice cream post-dinner? You will find some simple recipes like lassi, rose falooda, mango ice cream, lemonade, mojito, etc., to indulge your guests joining you on Eid.
Recipe FAQs
More desserts and sweets recipes
Did you like this recipe? Please leave a star ⭐️⭐️⭐️⭐️⭐️ rating below and/or a review in the comments section. You can also stay in touch with us through social media by following us on Pinterest, Facebook, Instagram, and Twitter.
Recipe card