This post is all about the collection of best, simple, and easy vrat recipes, also known as vrat ka khana in Hindi, Indian fasting food recipes, Prasadam or prasad, and upvas recipes that you can make during the nine days of Navratri, Shivratri, Ekadashi, Janmashtami, Ganesh Chaturthi, Karwa Chauth, Varalakshmi vratam (varamahalakshmi pooja), Shravan (Sawan) month, Sankashti Chaturthi, Panchami, Gauri Vrat, Adhika Masa, Sai Guruvar Vrat, Somvar ka Vrat.
Overall you can make these during any auspicious pooja or Indian Hindu festivals where fasting is celebrated. I have shared quick and healthy vrat recipes that will keep you full for a long time during your fasting day.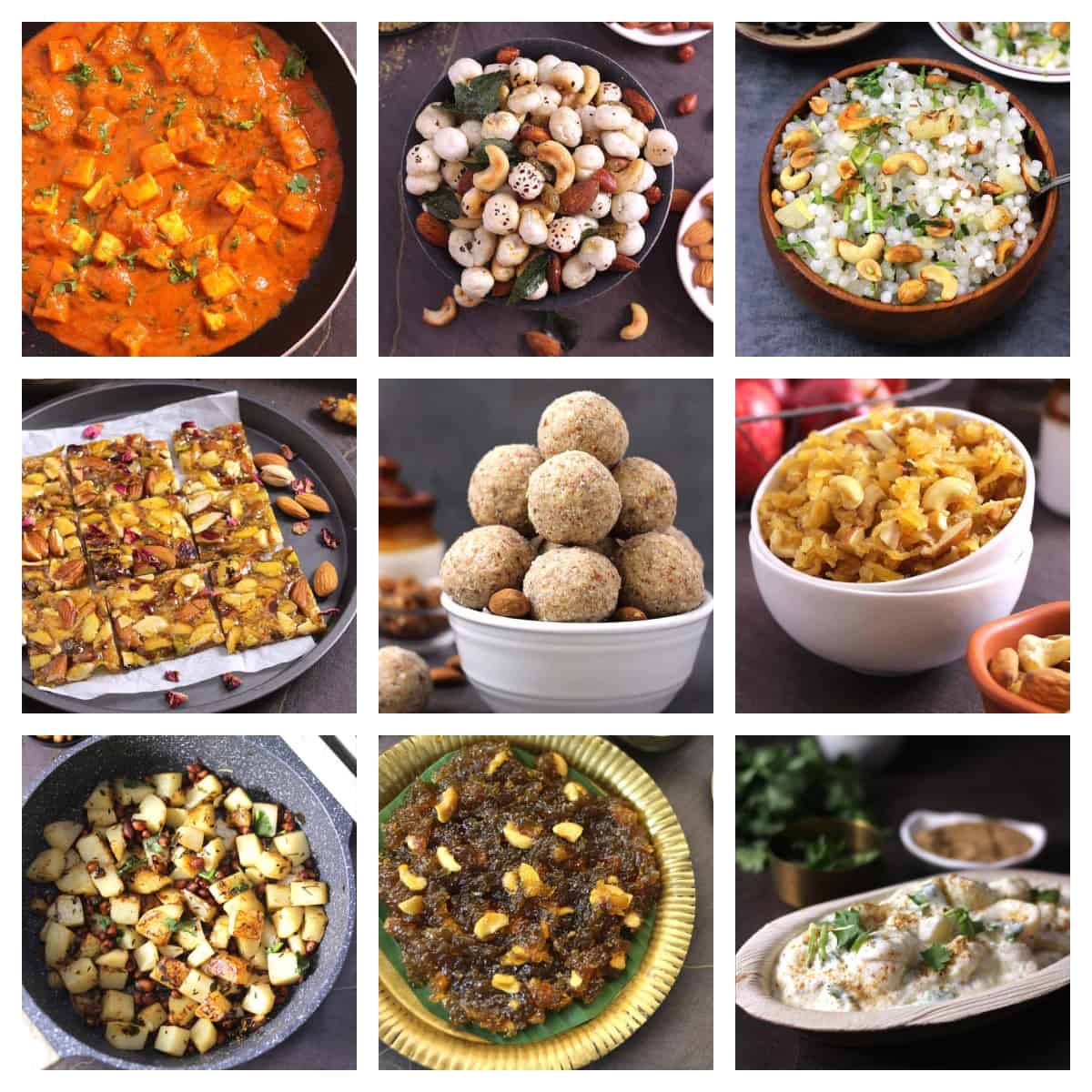 Jump to:
Important Notes
I have learned in my blogging years that every family follows their traditions. One family eats wheat flour (atta), while the other eats sabudana during upvaas. I recommend you ask your elders and make only those recipes with the allowed ingredients.
For example - in parts of South India that I am familiar with, no fasting is kept during Navratri; instead, deities are worshiped, sweets are offered as naivedyam to goddess Lakshmi and then served in the form of prasad (prasadam) to all devotees. In some parts of North and Western India, fasting (upvas or vrat) is kept on these nine days of Navratri.
Even the fasting rules vary from one region to another, and the same will be applied even for Ekadashi, Shravan, Shivratri, Ashtami, or any religious fasting you do weekly.
To know more about nine days of Navratri vrat and fasting and the importance of 9 days, read this useful post on Navratri and food to offer and eat on nine days.
While you are here, don't miss out on checking out the best must-try Indian desserts and sweets for festivals.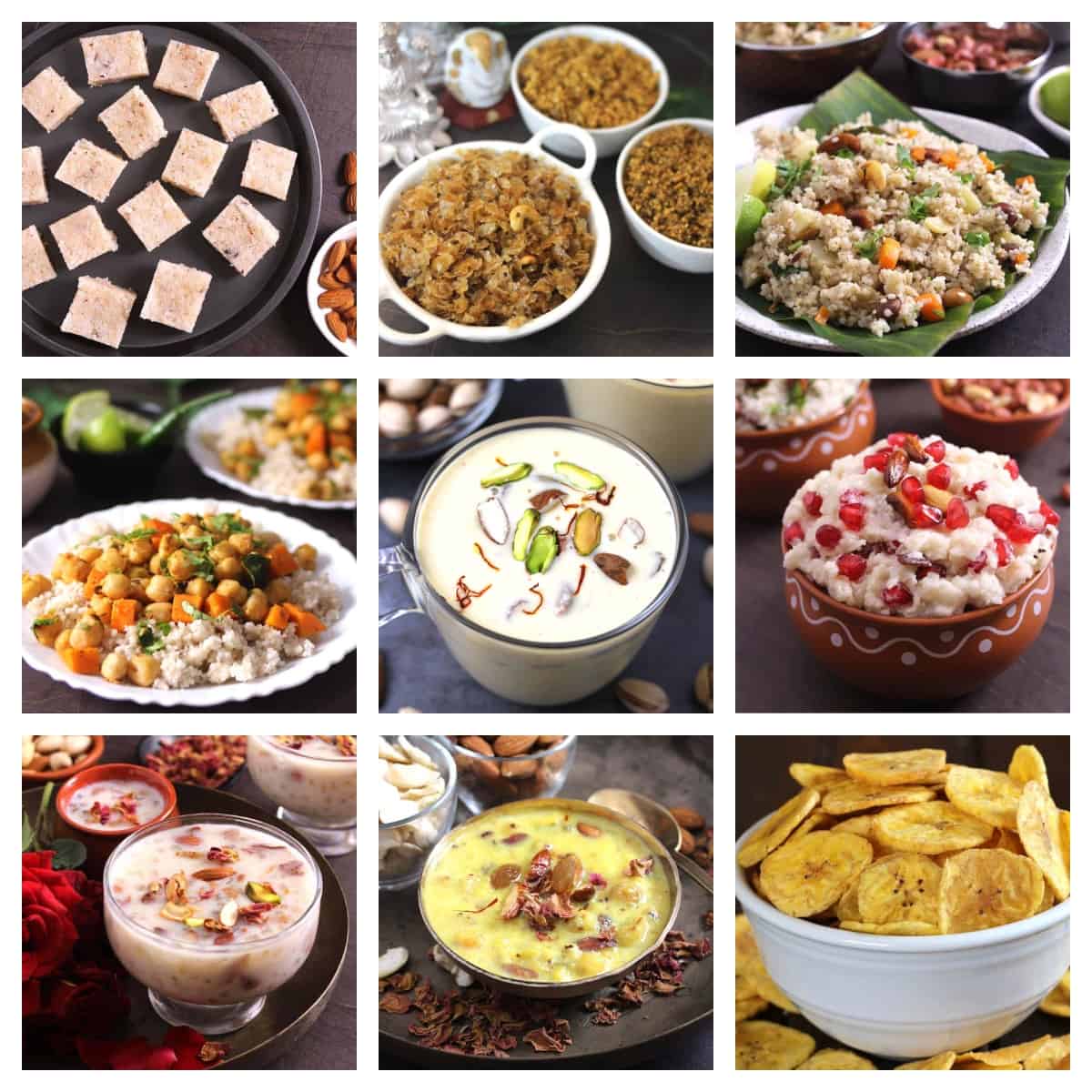 What food can be eaten during fast, vrat or upvas?
Sattvik foods are eaten during vrat or upvaas. Many fast have strict and specific rules.
For example, after I started blogging, I got to know from my fellow bloggers that sabudana is one of the main dishes you can eat during vrat, but in my hometown, sabudana (sabakki) is not typically consumed on fasting upwas days.
Another example that I would love to share is people prefer no salt fast or sendha namak (rock salt) for fasting in a few regions, but in my hometown, we are allowed to use regular salt for any fasting, vrat, or upwas.
And also, make sure you check with your family elders and follow the traditions and fasting rules, as some regions do not prefer onion garlic recipes, while others do not eat the regular salt, rice, wheat flour, or any grains on fasting or festival days.
But in general, fasting recipes are quick and easy to make. Most of the spices and grains are not used, with no meat, no marination, no onion, and no garlic.
What are the fasting or vrat rules followed in your region? Do comment below.
Fasting meals (Vrat Breakfast, Lunch and Dinner)
Some popularly eaten food recipes for fasting or vrat breakfast, lunch, and dinner includes traditional sabudana khichdi, samvat rice pulao, kuttu dosa (buckwheat flour dosa), rajgira or amaranth flour paratha, singhara or water chestnut kachori, lauki or bottle gourd soup, some simple salads with fruits and vegetables or easy no onion no garlic recipes with paneer, potato, pumpkin, sweet potatoes, plantains (bananas), chutneys, raita and more.
Sweets or Desserts for Fasting, Vrat, Upvas
Any occasion is incomplete without delicious desserts or sweets. Some fasting desserts and sweets recipes include kheer made with sabudana, makhana, ragjira, paneer, lauki, halwa with banana, apple, sweet potato, pumpkin, lauki, ladoo with badam or almonds, dry fruits, coconut, or simply some fruit salad with ice cream or popular barfi with milk, paneer, coconut or katli with cashews or almonds.
Snacks Recipes for Vrat or Fasting
Some quick and easy snack recipes you can prepare during fasting, vrat, or upvaas days include makhana, roasted nuts, and seeds, sabudana vada, fruit chaat, pakoras, homemade banana chips, aloo tikki, etc.
Drink Recipes (Beverages)
You can consume any drink made using fresh fruits, vegetables, infused water, coconut water, milk-based drinks, herbal tea, buttermilk, lemon water, cucumber mint cooler, lassi, etc.
Recipe FAQS
More Indian Sweets and Desserts
Did you like this recipe? Please leave a star ⭐️⭐️⭐️⭐️⭐️ rating below and/or a review in the comments section. You can also stay in touch with us through social media by following us on Pinterest, Facebook, Instagram, and Twitter.
Recipe card
This post for Indian vrat fasting recipes was first published in Aug 2020. Updated with more details, and calorie information.