10 Best & Easy Mexican Food Recipes for Cinco De Mayo Party!!!!!!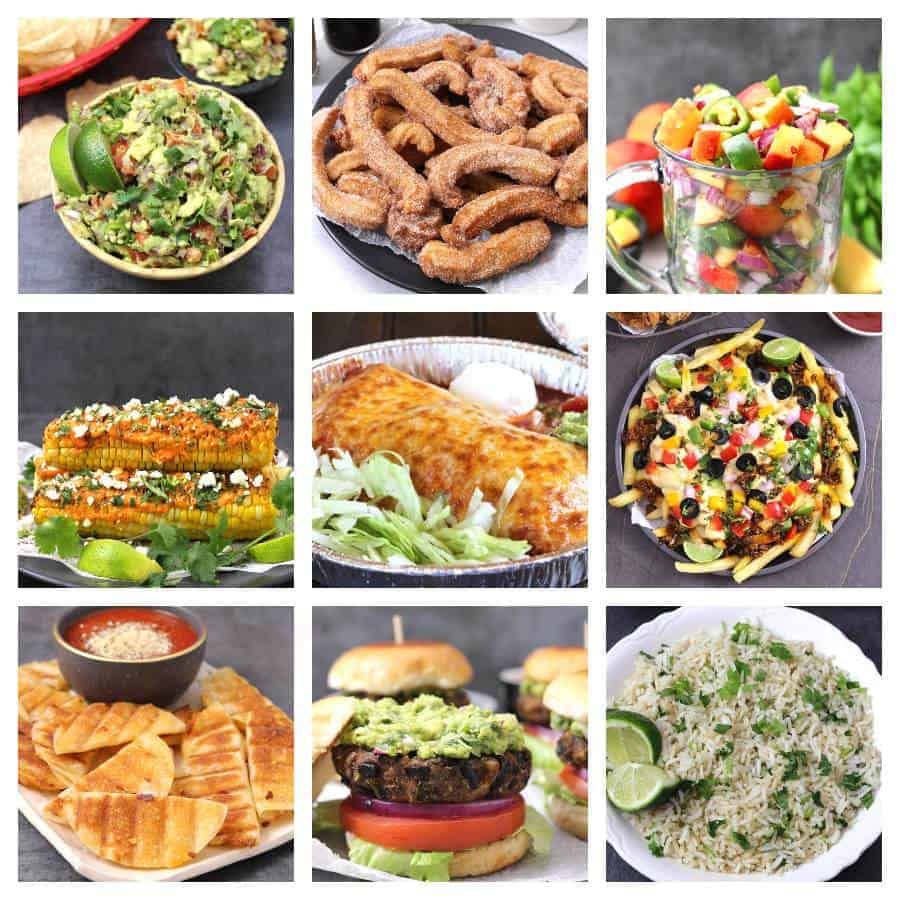 What is Cinco De Mayo?
Cinco De Mayo is a celebration of Mexican heritage. It is observed on 5th May to celebrate the victory of the Mexican Army over the French Empire at the Battle of Puebla. At the time of the war, Mexicans living in America were engaged. This is popularly celebrated across many cities in the United States.
This celebration of Cinco de Mayo in America features parades, parties including Mexican bands, folk music, Mexican American cuisine, cocktails, and more.
Did you know Cinco de Mayo beer sales are on par with popular Super Bowl 🙂 All in all, its a night of fun.
What food is eaten on Cinco de Mayo?
Cinco de Mayo is incomplete without simple and easy Guacamole,  Burritos, Churros, some fresh salsa with tomatoes and corn, shrimp ceviche, tostadas, empanadas, tres leches cake, etc.
Click on image or recipe title for direct detailed recipe
Number one recipe on the blog. Try it and you will know why its a popular one 🙂 Here piping hot tortillas are stuffed with enchilada sauce, cheese, rice, and beans.
Non-vegetarians can use their favorite meat (chicken, beef, pork to make enchiladas).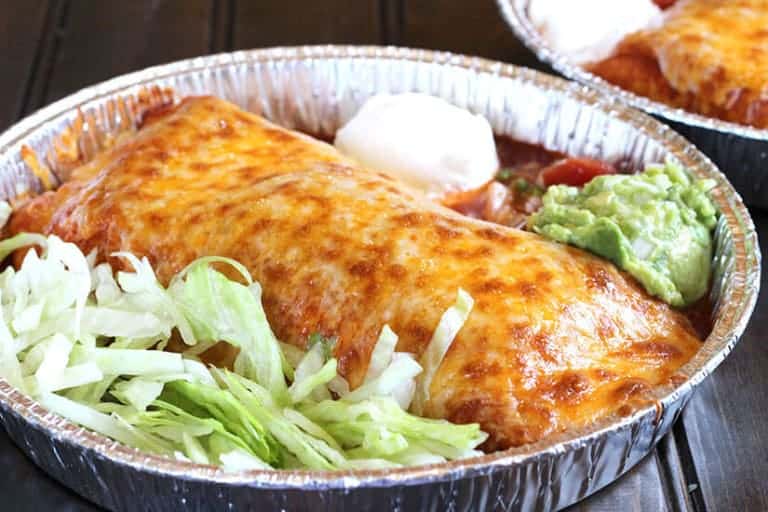 Believe me, this recipe is going to be a super hit at your party. Chunky and creamy Guac that comes together in less than 5 minutes.
Are you a street food lover? Then check this out. Best and classic way to serve corn on the cob – topped with amazing flavors.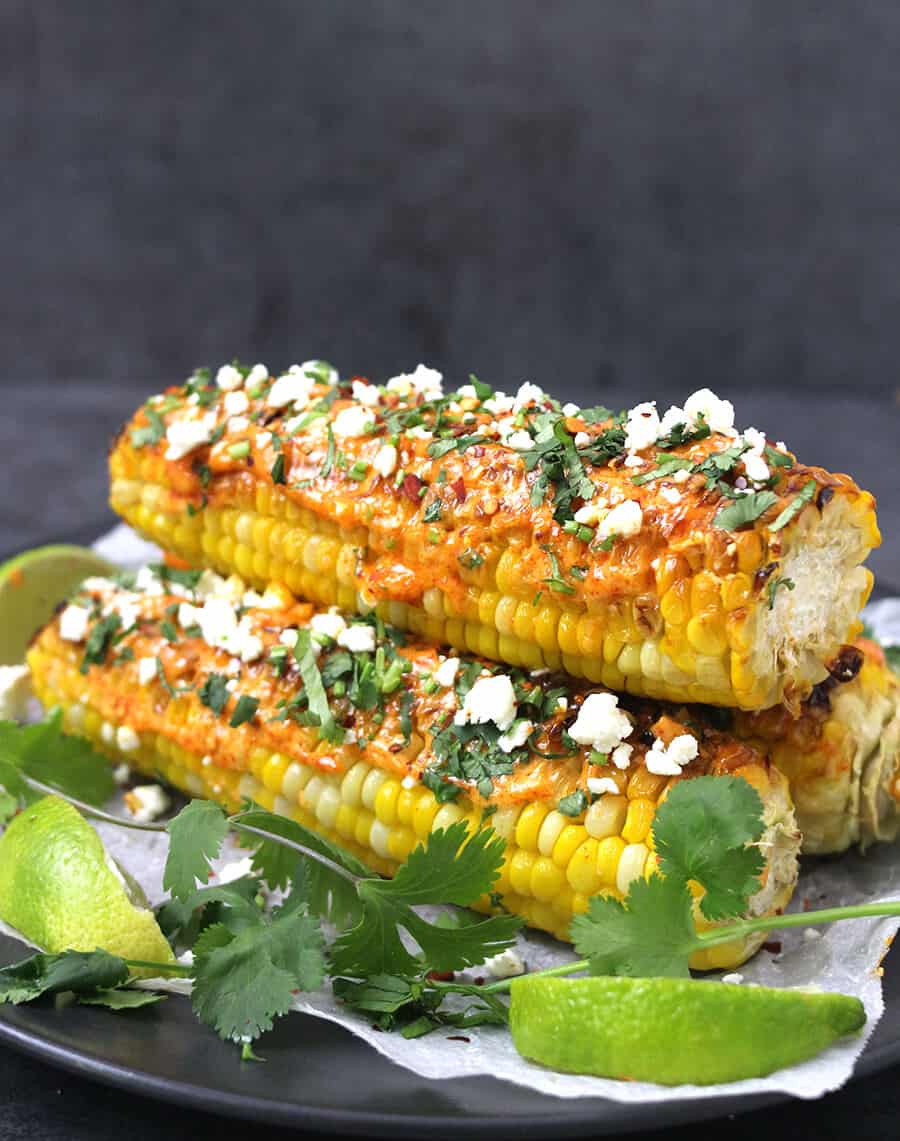 Even meat-eaters are going to love this healthy and hearty burger recipe. This thick patty is prepared using black beans and some aromatic ingredients.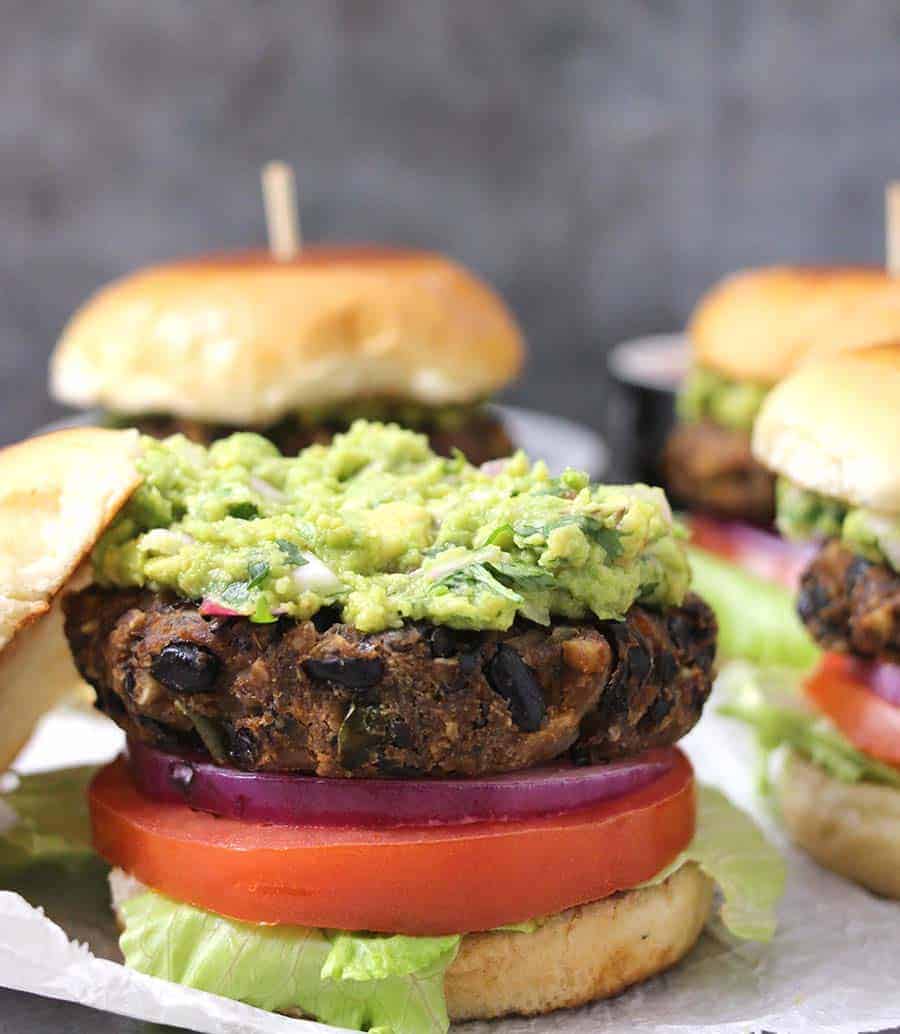 Best dessert – crispy on the outside, soft inside, served with dulce de leche. You cannot stop after eating one. Can you believe these churros are eggless and vegan? Are you missing Disney churros? Then check this recipe out.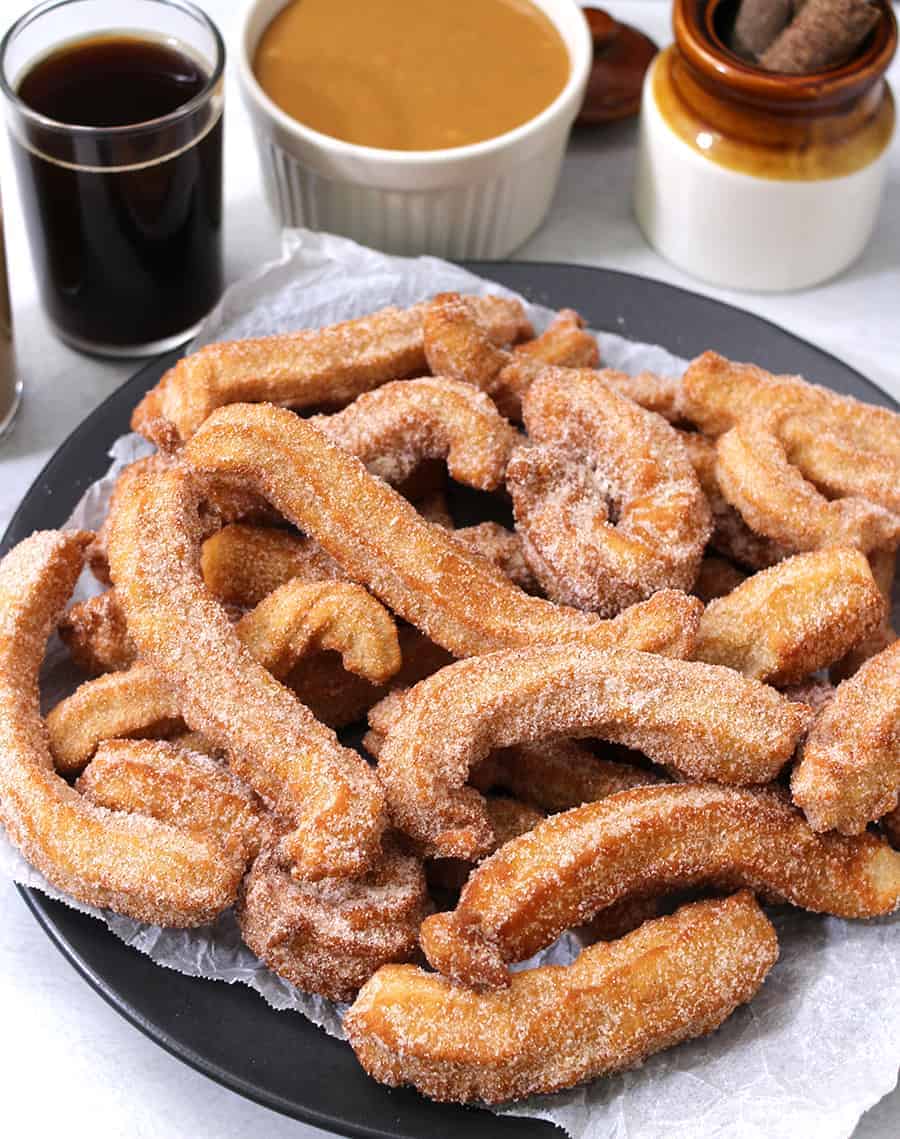 This easy rice is perfect for your rice bowls, burritos, fajitas, tacos, etc., and can be prepared in less than 20 minutes. One of my favorite Chipotle restaurant-style copycat recipe.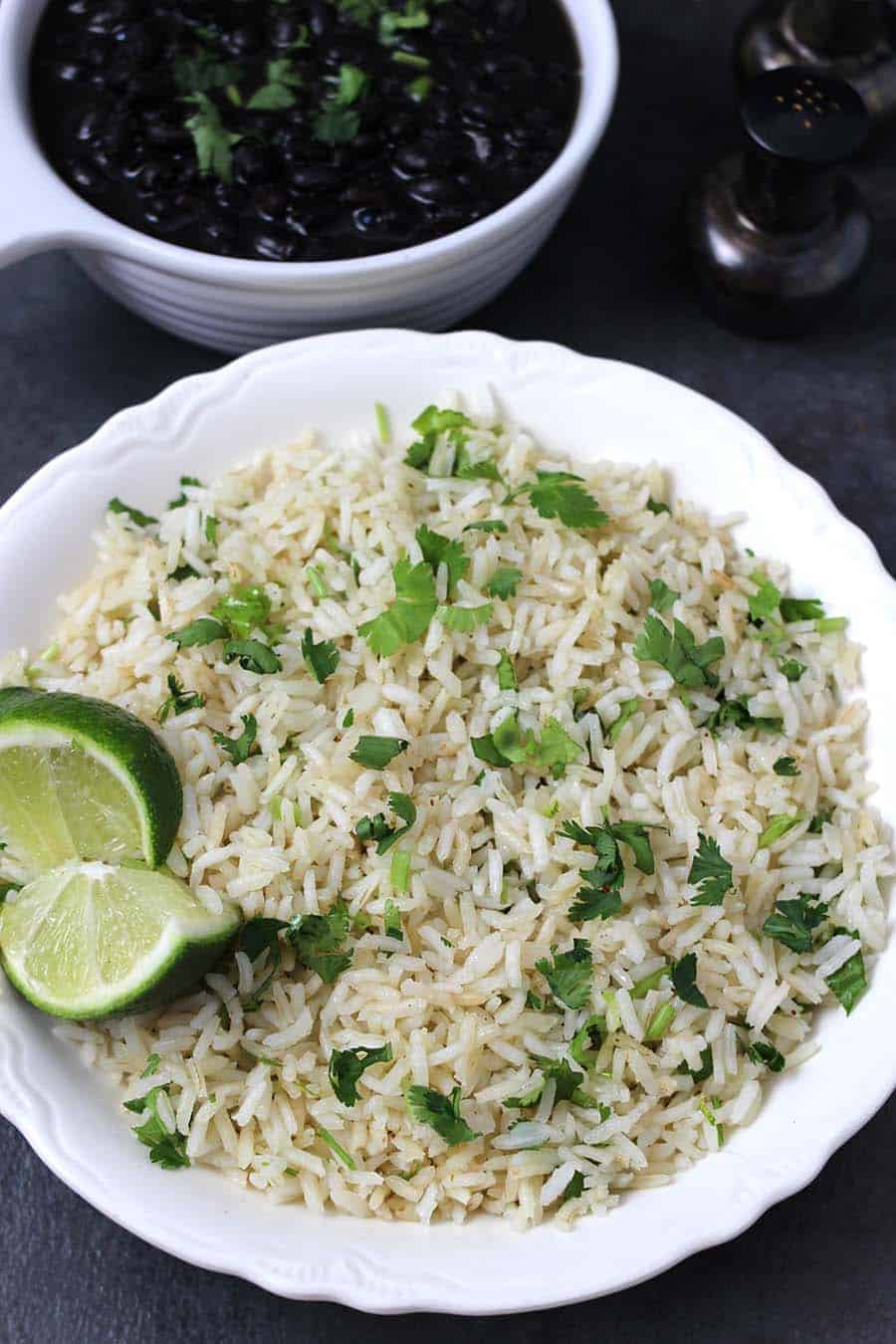 A very versatile recipe. Simply substitute French fries with store-bought tortilla chips and enjoy.
Quesadillas with Garlic Butter is a 5 ingredient cheesy and delicious finger food prepared in less than 25 minutes. These can be served as appetizers with cocktails or side with dinner.
Peach Salsa is a sweet and spicy dish bursting with amazing flavors, and can be made in 15 minutes. Perfect for BBQ, summer parties, potlucks, picnics, cookouts. You can add anything and everything you love like corn, tomatoes, mangoes, and more. A versatile recipe.
One of the best and healthy alternatives to traditional French fries. These are vegan and baked.
Nutty-flavored rice for your rice bowls, burritos, enchiladas, and a perfect side with fajitas. Another super hit recipe loved by many of my readers.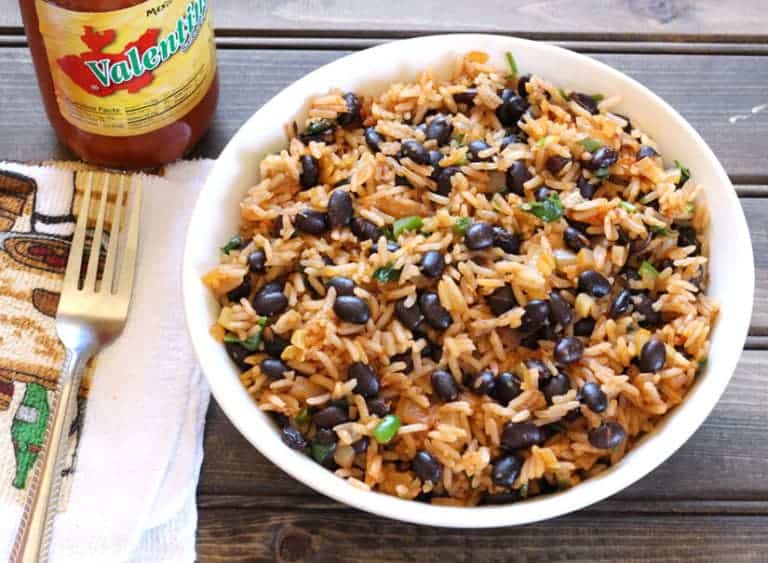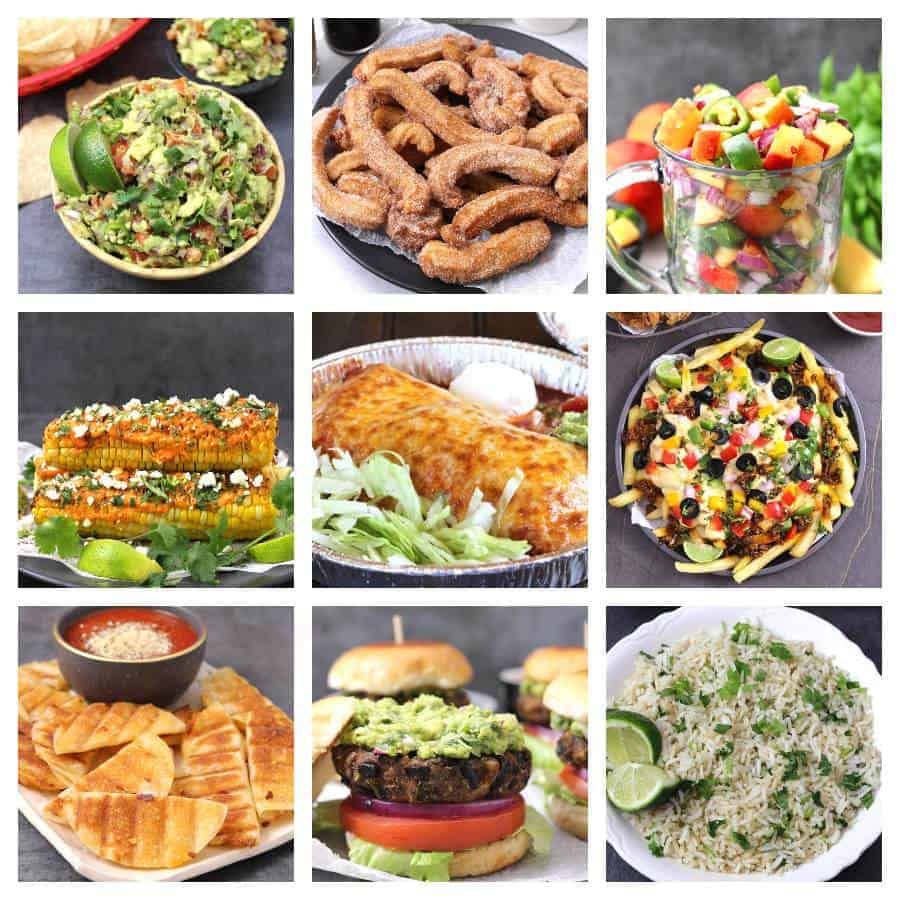 BEST & EASY MEXICAN FOOD RECIPES FOR CINCO DE MAYO PARTY
10 simple and easy Mexican food recipes for your Cinco de Mayo dinner party that includes enchiladas, burritos, guacamole or avocado dip, churros, elote or street style corn, cheesy quesadillas, peach salsa, black beans rice, cilantro lime rice, loaded nachos, churros, a best and healthy burger with black bean patty.
Course:
Desserts, Dinner, Lunch, Side Dish
Cuisine:
American, Latin America, Mexican, North America, South America
Keyword:
air fryed churros, air fryer recipes, Avocado, Black beans, Burritos, chimichanga, chips and salsa, Cinco de Mayo, Corn on the Cob, elote, empanadas, Enchilada, Enchilada Sauce, fajitas, Festival recipes, Guacamole, instant pot, keto recipes, mexican burritos, nachos, quesadillas, refried beans, street style, tacos, tostadas, vegan, vegetarian burritos, vegetarian casseroles
Instructions
Click on each image or name of the recipe to get a full detailed recipe for the same.

Happy Cinco De Mayo 2021. Stay safe.

Do let me know what is your favorite recipe from the list above.
For more recent updates, follow me on Pinterest, Instagram, Twitter. 
***Click below to save it on Pinterest***