Below is a list of the best, simple, and easy-to-make potato recipes for snacks, lunch, dinner, and even breakfast. Oh yes, potatoes any time of the day and any time of the week. There are several ways to cook potatoes. You can mash, fry, steam, boil, or bake them- it tastes great anyway.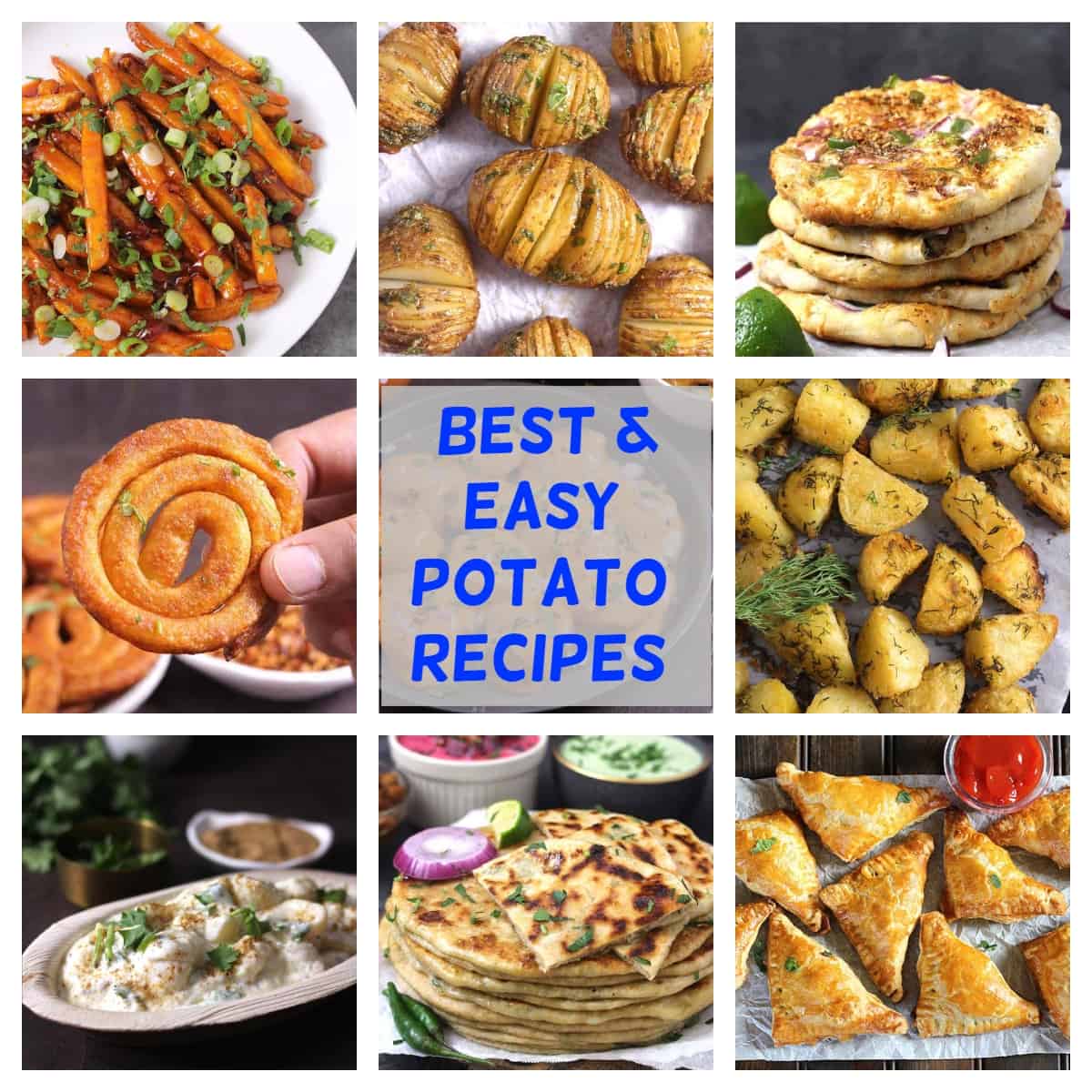 Any Thanksgiving dinner, Christmas dinner, Super Bowl party, or any get-together is incomplete without at least one dish with potatoes. It can be the main course of your meal, appetizer, side, starter, finger food, or bite-size snack.
Jump to:
In this post, you will see some of the best and most simple recipe ideas with not only potatoes but also affordable or cheap budget-friendly recipes with potatoes and some unique recipes which are super easy to make.
I generally use russet potatoes and baby potatoes for some of my recipes. But you can try all these recipes with any variety of potatoes, from Russet, Yukon Gold, baby potatoes to even sweet potatoes.
Finally, don't forget to let us know which was your favorite. I have started adding all my new potato recipes here. If you have any food wishes, let us know in the comment section below; we would love to make it for you.
Potato Side dishes, Appetizers, Finger Food
Check out these recipes if you are looking for simple, comforting, and easy potato side dishes and appetizers to serve at your dinner party or for your weeknight meal. You can do a lot more than french fries (finger chips) and wedges.
Crispy garlic roasted potatoes with herbs of your choice
Hasselback potatoes - popularly made during Christmas and Thanksgiving dinner
Honey chilli potatoes or honey sriracha potatoes
Holiday creamy potato salad
Cajun-spiced potatoes that are better than what you get at Barbecue Nation
Loaded vegetarian french fries for the Super Bowl party
Flaky mushroom potato pie
Spiral French Fries (new look to your traditional french fries)
Potato Quesadillas
Oven-roasted rosemary garlic potatoes - the best accompaniment with your dinner roast.
Potato Main Dishes for Dinner
Potato dishes are really budget-friendly. They are always affordable, and, importantly, because of the carb and starch, they are filling too. Check out some of the main dishes you can make for dinner on a daily basis and for your dinner parties.
Indian mashed potato stuffed bread called aloo paratha is also one of the best options for your kid's lunch and tiffin box.
Cheesy crispy potato casserole
Potato and cauliflower au gratin with goat cheese
Stuffed Pizza bread where you stuff it with mashed potato and onion filling.
Cauliflower potato pie
Potato Snacks
If you are looking for some easy after-school snacks with potatoes, then you should try this out.
Puff pastry samosa using puff pastry sheets.
Batata Vada (Aloo Bonda)
Curry puff or mini veg bites
Aloo tikki (mashed potato patties that can also be used to make sandwiches or burgers)
Indian street-style pav bhaji
Potato Recipes Indian
Potatoes, popularly known as aloo or batata in India, are used almost daily, from making simple breakfast to street food or chaat to filling dinner.
Easy Aloo Chana Chaat (Chickpeas Potato Salad, Indian style)
Potato in yogurt sauce, Dahi wale aloo
Crispy homemade samosa
Aloo Kachori
Tender cashew potato curry
Amritsari aloo kulcha
Healthy potatoes and fenugreek leaves stir fry - aloo methi
Street-style dahi aloo chaat
Simple potato stir fry with peanuts
Tandoori aloo or potatoes
Tarri Batata Poha
Indian sliders or Vada Pav
Sweet Potato Recipes
If you are looking for a little different from potatoes to serve your kids, I would highly recommend these delicious and healthy low-carb sweet potatoes.
Savory mashed sweet potato casserole
Garlic-roasted sweet potatoes
Dumplings with sweet potatoes
FAQ
Recipe card
For more recent updates, follow me on Pinterest, Facebook, Instagram, Twitter. 
***Click below to save it on Pinterest***