This post is about the collection of the best, healthy, and easy Ramadan Recipes. Iftar food ideas include dinner meals, drinks, desserts and sweets, and snacks from India, Pakistan, Bangladesh, and the Middle Eastern region.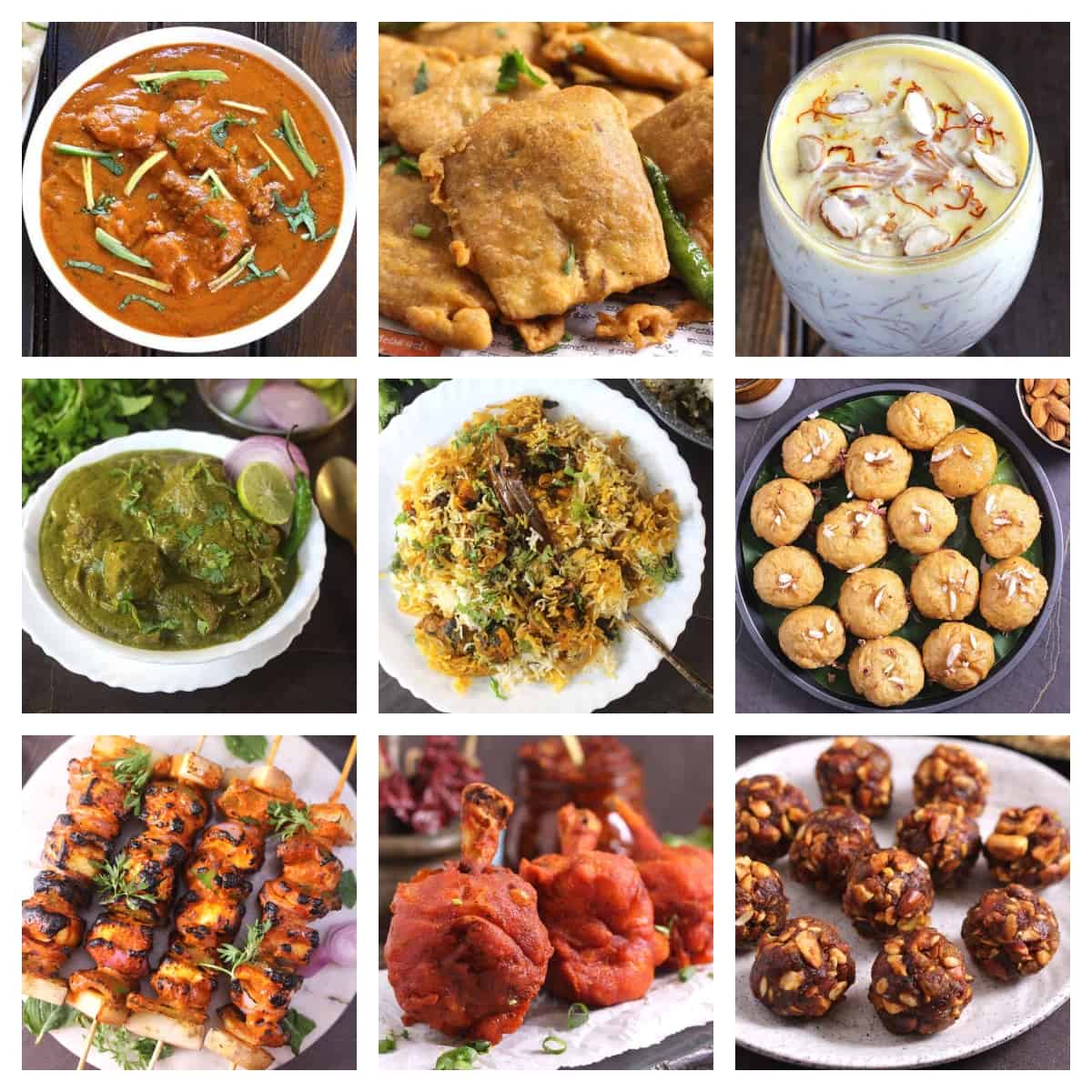 Jump to:
The holy month of Ramzan, or Ramadan, is here. Iftar is the time of communal gathering and breaking fast together. As the sun sets, families and friends come together and enjoy the most delicious meal. Whether you are looking for nutritious and healthy meals and drinks to break the fast or easy vegetarian recipes, you are at the right place. We have covered it all. Most of my Ramadan recipes are from Indian and Pakistani cuisine. But there are also some simple Middle eastern recipes that you can make.
I have also shared freezer-friendly, make-ahead options, quick recipes, and marination tips in each recipe. You have to pick your favorite from each section and plan your Iftar and Ramadan menus.
Popular dishes
The most popular dish during Ramadan is the one prepared with dates. Dates (khajoor) are high in natural sugars and plays a vital role in restoring energy levels after fasting the whole day. They also help you keep full for a longer time.
While you are here, try our Date Pudding, Dates kheer, Popular Dates cake, Apple dates bread, and Dates ladoo (laddu) or energy balls.
For a large meal, meat-based biryani, one-pot chicken pulao or pilaf, kebabs, or grilled chicken are the best choice. If you are looking for a vegetarian option, there is nothing better than eggplant casserole or paneer tikka.
For a side dish, we love middle eastern food that includes hummus, falafel, baba ghanoush, and tzatziki which are all great options for dipping your favorite vegetables or pita bread. But also, don't miss out on the stuffed grape leaves, samosas, and pakoras.
No Iftar or Ramadan meal is complete without delicious desserts and sweets like baklava, cake, pudding, qatayef, kheer, and kunafa.
Chicken Recipes
Meat-based dishes are preferred during Iftar and Ramadan. Sharing some of the best Ramadan recipes, including chicken biryani, chicken lollipop, whole roasted chicken, kathi rolls or chicken wrap, Malnad-style green chicken curry, and grilled tandoori chicken (chicken tikka or kebab), chicken tikka masala, and tikka biryani.
Dinner and Meal Ideas
I highly recommend one-pot meals like chickpeas pilaf or biryani, quinoa salad, turmeric Persian rice, paneer tikka, eggplant casserole, naan, kulcha, butter masala with paneer or mushroom for a healthy and delicious meal. This section is best option for vegetarian and vegan Ramadan recipes.
Snacks and Quick Bites
Snack and Quick Bites is my favorite section. It includes easy and addictive Ramadan recipes from puff pastry bites to Indian chaats like dahi aloo, dabeli, pav bhaji, and vada pav or fried snacks like pakoras, samosas, kachoris, and more. You can check some more easy snacks recipes.
Desserts and Sweets
No festival or meal is complete without desserts or sweets. There is always some room for dessert, even after a heavy meal. We have kheer with dates, vermicelli, rice, and many more, payasam, ladoo, burfi (barfi), cake, pudding, halwa, baklava, basbousa, sheer khurma, balushahi, nankhatai, knafeh, Namoura. Also, check out more Indian desserts and sweets for Eid,Iftar and Ramadan.
Drinks
During summer it is very important to stay hydrated during Ramadan. Some of the best drinks that are popularly consumed during iftar include fruit juices, lemonade, rooh afza, laban, milk, water, qamardeen, jallab, etc.
Middle Eastern Recipes
Some simple and easy middle eastern Ramadan recipes from pita bread, hummus, and falafel to pita sandwiches, greek salad, and tzatziki sauce that you can make for a nutritious iftar dinner.
Recipe FAQs
Did you like this recipe? Please leave a star ⭐️⭐️⭐️⭐️⭐️ rating below and/or a review in the comments section. You can also stay in touch with us through social media by following us on Pinterest, Facebook, Instagram, and Twitter.
Recipe card