This post is about easy, healthy, and best summer recipes, including salads, pasta, backyard BBQ and grilling recipes, and seafood for a simple summer dinner.
Summer cookout, memorial day weekend, 4th of July party, or summer potlucks and picnics, these light and classic, easy-on-the-go meal recipes will be your family's new favorite.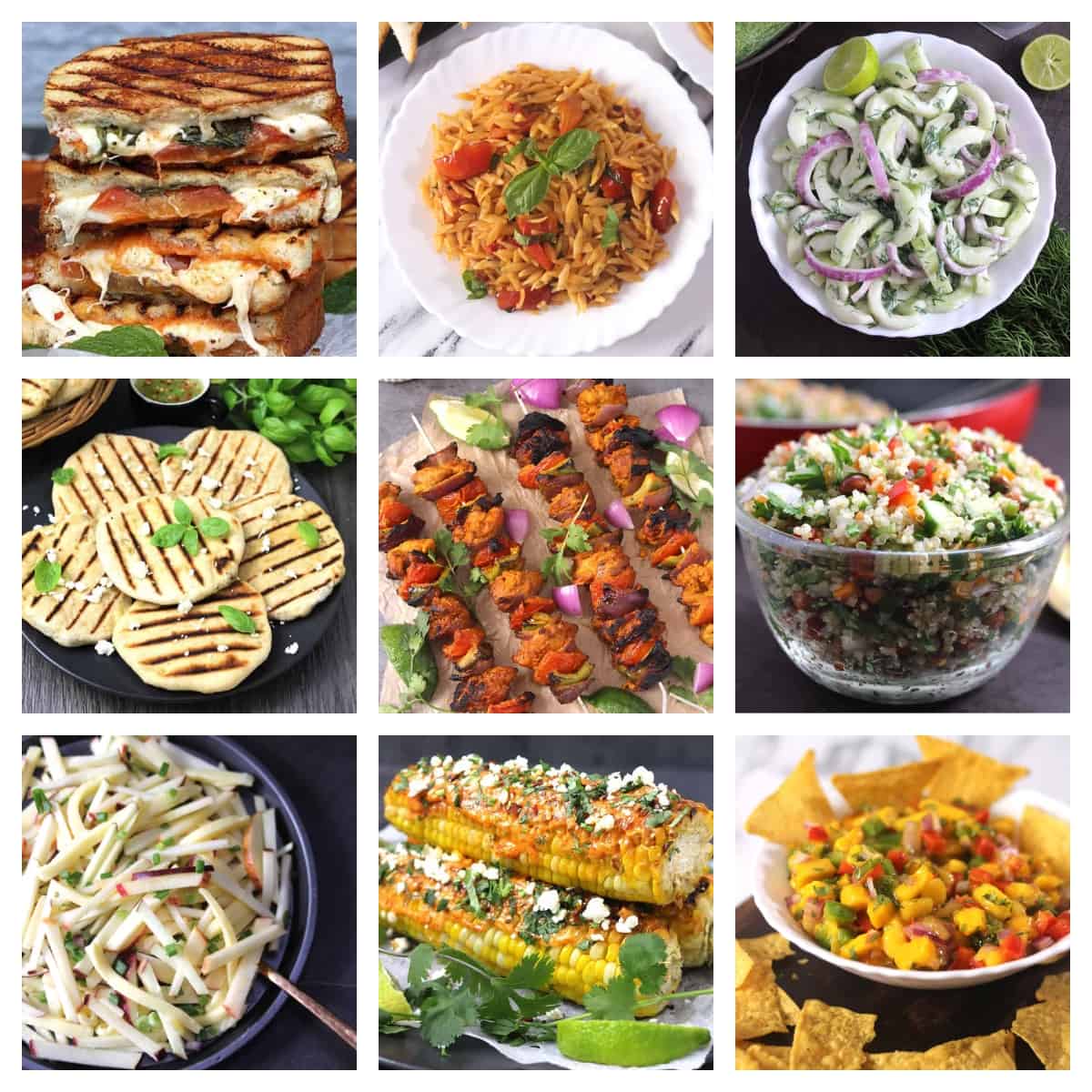 Jump to:
What food to eat in the summer?
To beat the heat and have a refreshing and cooling effect on your body, fruits, and vegetables with high water content are the best when consumed in summer.
Here is a quick list of summer drinks, fruits, and vegetables to add to your daily meal. You can eat them raw, make juices, salads, salsa, and more!
Summer drinks: Tender coconut water is the best option if it is readily available at your place. Make drinks with seasonal fruits or infused water from cucumber or lemon.
Summer vegetables: zucchini, summer squash, tomatoes, cucumber, corn, green beans, eggplant.
Summer fruits: watermelon, mangoes, berries, pineapple, peaches, grapes, kiwi, plums, apricots, oranges (mandarines).
I have covered everything if you are wondering what food to eat for a hot summer day or night. Light, refreshing, and easy recipes with seasonal ingredients will always be the best.
Now for desserts and drinks, I have created a separate list of summer desserts and drinks that includes patriotic treats, frozen desserts, no-bake desserts, unique and healthy desserts, drinks, and more.
Best Summer Salads
Summer salads are refreshing and nutritious, a quick and simple way to enjoy the fresh flavors of summer fruits and vegetables.
We have cucumber salad, rainbow quinoa salad, avocado salad, fruit salad with tropical fruits, matchstick apple salad, mexican peach salsa and, quick mango salsa, greek feta salad to try this season.
Summer Pasta
Orzo pasta salad is quick and easy to make, also holds its shape, and can be served hot, warm, or cold. These pasta salads are suitable for summer potlucks and picnics.
Two of my favorites include orzo pasta salad with fresh tomatoes and basil, pasta salad with sun-dried tomatoes, and pesto.
Corn Recipes
Grilled corn on the cob served Mexican street style way is our favorite. You can also check easy BBQ grilled corn. Corn can also be added in your salads and salsa.
Chicken Recipes
Chicken recipes are sure to satisfy taste buds for any meal. During summer, we prefer easy recipes so that we can spend less time in the kitchen. Some favorite summer chicken recipes include grilled chicken and juicy BBQ chicken, chicken wraps, quick keto lemon garlic chicken, and chicken satay Thai style.
Shrimp Recipes
For all seafood lovers, add shrimp to salsa, tacos, salad, pasta, or stir-fries to make the summer meal more classic and delicious. We love garlic butter shrimp with avocado flatbread and cheesecake factory-style shrimp scampi pasta.
Squash and Zucchini
Enjoy the fresh flavors of zucchini or summer squash in a season by grilling them with other veggies, tossing them with salads, or making some bread or noodles. We have instant zucchini pancakes, chocolate and zucchini bread (the best way to add vegetables to your diet), squash pasta.
Other Summer Vegetables
Use cheap and fresh seasonal vegetables in your favorite way possible. My family's favorites include grilled eggplant dip, roasted potatoes, eggplant parmesan, roasted cauliflower, stir fried asparagus.
Classic Meal Ideas
Classic dinner ideas include light and fresh dishes made using seasonal ingredients or summer outdoor grilled recipes.
We have grilled Margherita sandwiches, BBQ jackfruit sliders, grilled cottage cheese or paneer, black bean burgers, whole wheat avocado flatbread that can be served with shrimp or used for chicken wraps, Bianca pasta with fresh seasonal ingredients, fresh mango thai fried rice.
Recipe FAQS
More Summer Desserts
Did you like this recipe? Please leave a star ⭐️⭐️⭐️⭐️⭐️ rating below and/or a review in the comments section. You can also stay in touch with us through social media by following us on Pinterest, Facebook, Instagram, and Twitter.
Recipe card