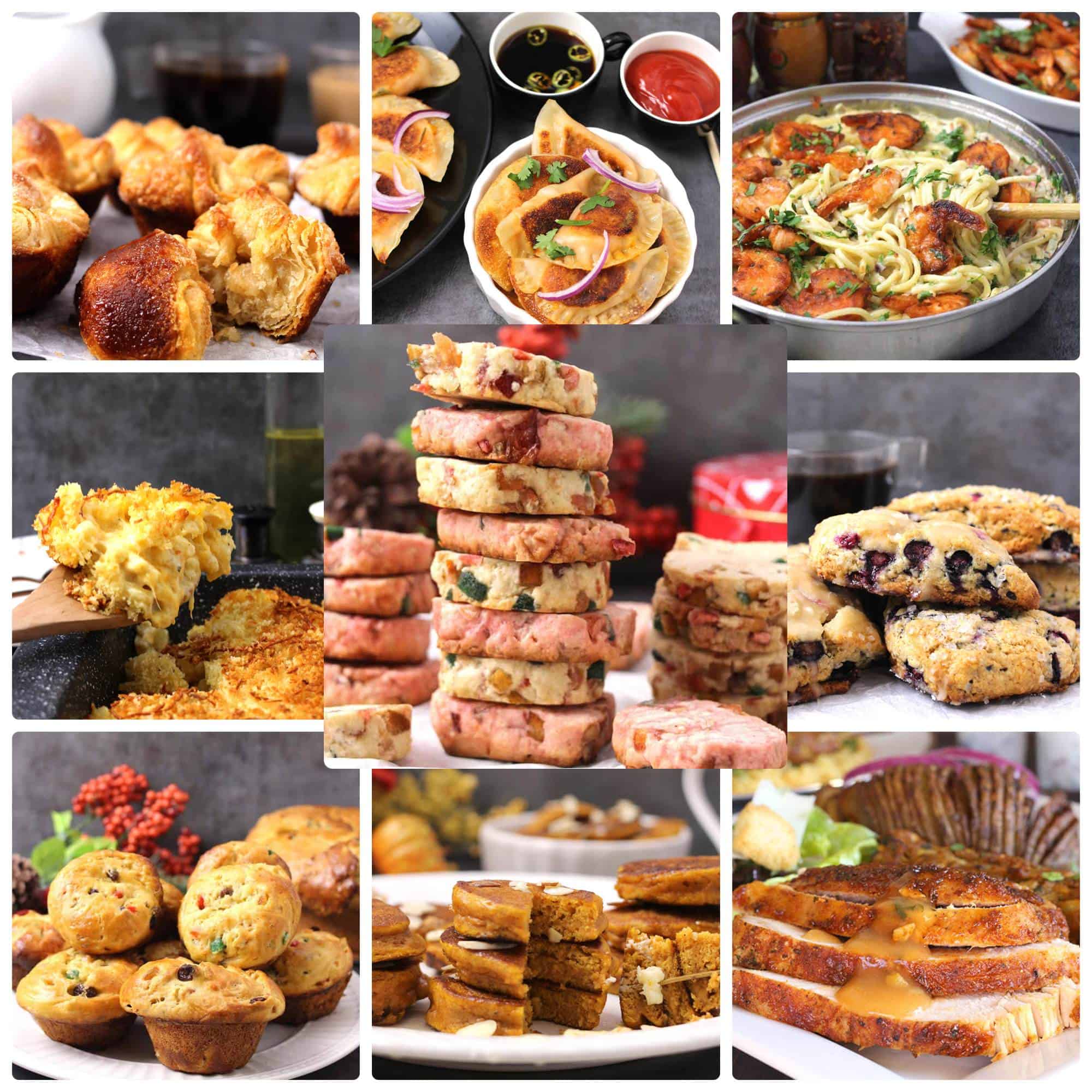 In this post I am sharing a comprehensive list of best and easy Christmas food recipe ideas or holiday season recipes - ranging from breakfast to dinner for both large or small family gatherings - to make your menu planning easier.
Wish all my readers a Merry Christmas and a prosperous New Year. Happy Holidays.
This post is specially for my readers who have asked me on my social media how I go about planning my Christmas dinner menu. To make this task easier, I am providing a detailed list of holiday menu items along with pictures. From this list I pick and choose few items belonging to each category and plan my menu ahead of time. This makes Christmas grocery shopping so much easier. I also make few make-ahead recipes so that I can spend my Christmas eve and holidays with family, than in kitchen.
What to serve for Christmas dinner or what are some of the most popular food served at Christmas or Holidays?
Recipes listed below are some of the traditional, non-traditional Christmas recipes that we prepare for dinner almost every year. Scroll down for more recipes in different categories and plan your menu.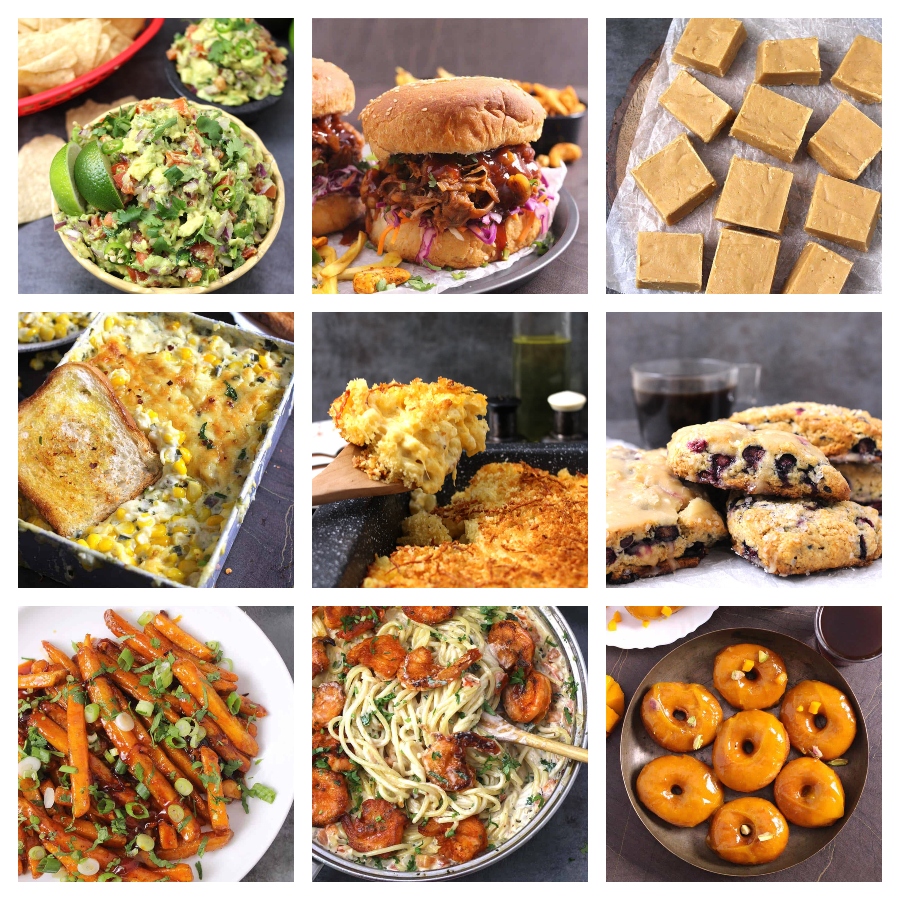 What can I pre-cook and freeze or make-ahead for Christmas Eve dinner?
When it comes to entree and sides - breads, rolls, roasted vegetables, stuffing, casseroles, and gratin can be made ahead of time.
When it comes to dessert, do check my dessert section below and you will see that Christmas cake, Christmas cookies, pudding, sweet bread, and most of the desserts and sweets recipes can be prepared ahead of time.
Best & Easy Christmas Eve Food recipe ideas  or Holiday Season recipes Menu Ideas from Breakfast to lunch and dinner
Pick recipes under each category and prepare your Christmas or holiday menu. It would be great to read your menu if you can share it in comment section below.
Here you go
Welcome to Whole Day Christmas Menu
Easy Christmas or Holiday Breakfast recipe ideas
Lunch and Dinner recipe ideas to plan Christmas or Holiday menu that includes soups, salads, breads, buns, rolls, side dishes, entree, desserts, and drinks
Breads, Buns, Rolls for Christmas or Holiday
Soups, Salads and Sides or Side dishes for Christmas or Holiday
Main dish or Entrée for Christmas or Holiday lunch and/or dinner
Best Holiday and Christmas Desserts Recipes (unique, fun, holiday themed) that includes pudding, Christmas cake, Christmas cookies, pie, sweet bread and more...
Some Special Christmas or Holiday Drink recipes
Detailed recipes for Christmas Eve dinner, best and easy Christmas food recipe ideas or holiday season recipes - breakfast, lunch and dinner or Potluck or Party food that includes soups, salads, breads, rolls, buns, side dishes, appetizers, entrée, desserts and drinks
Recipe card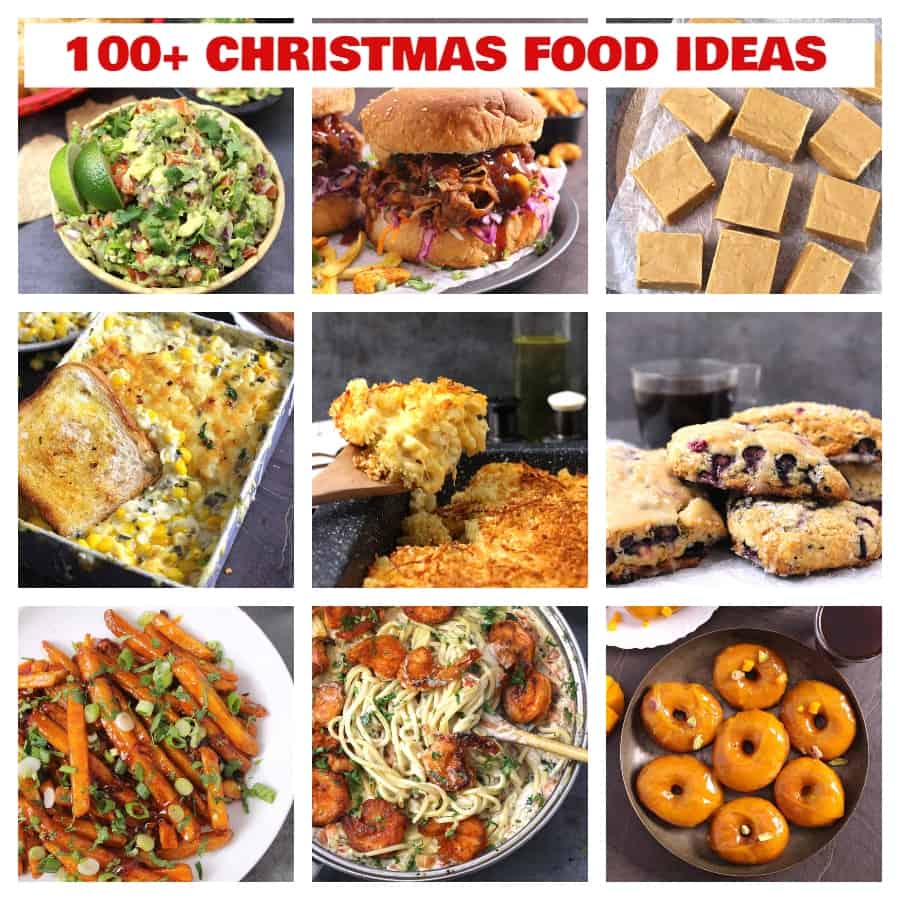 BEST & EASY CHRITSMAS FOOD IDEAS | HOLIDAY SEASON RECIPES | CHRISTMAS EVE DINNER
This post includes more than 100 + recipes from breakfast to lunch, snack and dinner that includes different categories - bread rolls, buns, soups, salads, side dishes, casseroles, main course (entrée), themed desserts and drinks where you can pick and choose your Christmas eve or holiday dinner party menu for two, large crowd, vegetarian and vegan friends and family or potluck.
Ingredients
Blueberry Scones

Cornbread

Mango Doughnuts

Vienna Bread

Avocado Salad

Loaded Cauliflower Casserole Bake

Cheesy Creamed Corn

Chicken WIngs

Fettucine Alfredo

Shrimp Scampi Pasta

Jackfruit Burger

Crispy Roasted Potatoes

Raspberry Cookies

Peanut Butter Fudge

Carrot Cake Pudding
Instructions
The above given list is what I am planning this year. I will include some other recipes too.

Plan your menu from different categories.

Gather all the ingredients needed and follow the instrcutions

Prepare the recipe and have fun with your family and friends.

I wish you all a very Happy Christmas & Prosperous New Year
What can vegetarians and vegans eat for Holidays or Christmas dinner?
I have good news for you 🙂 I generally give options even in my non-vegetarian recipes to make it vegetarian and vice-versa. Most of the recipes you see below are vegetarian and can also be easily made vegan with substitutes.
How are you planning to celebrate Christmas 2020?
A virtual dinner gathering for Christmas dinner party is what we feel is the beautiful and best way to celebrate this year. It is always good to stay safe. This is what I recommend even to my family and friends. But if you really want to host events, make sure you do it outdoors with friends and families from nearby towns and with minimal attendees.
Wish you all a very Happy Christmas 2020
For more recent updates, follow me on Pinterest, Instagram, Twitter. 
***Click below to save it on Pinterest***